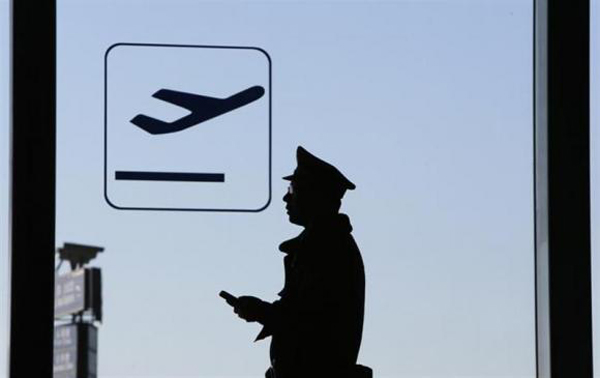 A policeman is silhouetted inside Beijing International Airport, March 13, 2014. [Photo/Agencies]
More than 60 percent of Chinese who were repatriated from overseas last year were returned for being illegal residents, immigration inspection officials in Beijing said.
The Beijing Office of China Immigration Inspection dealt with about 6,000 repatriated people last year, among whom 88.3 percent were Chinese repatriated by other countries, and the rest were foreigners sent back to their home countries by China, according to Ni Binghong, head of the repatriation inspection center at the authority.
The number has declined over the past few years, Ni said, from an average of around 8,000 in the past.
For example, a couple from a coastal province in eastern China were repatriated from a European country on Jan 25 because they were identified as illegal residents when they were about to expand their business, the authority said.
Meanwhile, the couple, who went to the country with travel visas in 2012, have also lost their investment, the authority said.
Those repatriated were mainly farmers and laid-off workers who went abroad for illegal employment, said Zhang He, deputy director of the authority's general service office, adding that some repatriated people worked as chefs in Chinese restaurants.
"Illegal employment of Chinese happened mostly in developed countries, as salaries there were higher than those in their hometowns," Ni said.
"Some of them paid travel agencies more than 100,000 yuan ($16,000) to leave in the name of work or commercial visits, and when they arrived at their destinations they turned to their friends or relatives," Ni said.
He confirmed that a few Chinese had left travel groups to seek jobs after going to Southeast Asian countries and were repatriated when their visas were found to have expired.
In addition, some Chinese were asked to return because of disqualified exit-entry documents, and some were repatriated after they were involved in crimes, he added.
The authority has also intensified inspections of foreigners in China because an increasing number have started to use China to illegally enter third countries.
Most of the foreigners sent home were from developing countries or regions troubled by war, and were returned for staying in China illegally or for disturbing public order, according to Ji Lixia, assistant head of the authority.
caoyin@chinadaily.com.cn