Chen Tingjun is hoping Beijing and Zhangjiakou's joint bid to host the 2022 Winter Olympics succeeds so he can acquire more memories to go alongside his recollections of the 2008 Olympic Games.
"I will be 76 years old in 2022," the retired army general said. "I believe I will still be healthy and strong enough to take part in voluntary work if the Winter Games are held in Beijing and Zhangjiakou, just as I did at the 2008 Games."
The 69-year-old was a torchbearer as well as a volunteer in 2008. In 2005, when Chen had just retired as a troop commander, he read in a newspaper that the Beijing Organizing Committee for the 2008 Olympic Games was looking for volunteers to assist in the lead-up to the event. He applied right away.
"I didn't want to live a retired life with nothing to do all day," he said.
He was accepted and was given responsibility for handling letters, phone calls and e-mails from people across the country and around the world who were offering to be volunteers at the Games.
"I was working with two college students, who were also volunteers. They handled the English inquiries, while I, whose English was poor, took the Chinese ones," said Chen.
Most Chinese people of his generation learned Russian rather than English as their first foreign language.
"Though we had a standard template for responding to the inquiries, we had to add some personalized remarks to show respect and encourage the applicants in the hope that they would continue to support the Games, even though they were not accepted as volunteers," Chen said.
From July to December 2005, Chen and his two young colleagues responded to more than 5,000 letters, calls and e-mails, and he says he learned a lot from the experience.
"Before doing that voluntary work, I had no idea what a 'paperless office' was and didn't even know how to operate a computer. But now I can do many things with a computer, such as sending e-mails, using Excel software and so on," he said.
Torch relay
As the 2008 Games approached, Chen became involved in other voluntary work, including the recruitment, management and training of volunteers. He was then selected as a representative of the volunteers in the torch relay.
During the Games, Chen took advantage of his military background as he coordinated troops and armed police on duty at the venues.
When Chen heard that Beijing and Zhangjiakou planned to bid for the 2022 Winter Games, he could barely contain his delight.
"Chinese people believe that good things come in pairs. I sincerely hope that we can hold a Winter Olympics after we've successfully hosted a Summer Games.
"I hope I can be a volunteer again, introducing the beautiful winter scenery of North China to people from across the world."
Chen lives close to Beijing's Olympic Forest Park, which was built for the 2008 Games, and describes it as "a treasure of the Games". He sees a large number of residents exercising there regularly.
To help meet his goal of staying healthy so he can make a contribution to the 2022 Winter Games if the bid succeeds, Chen joins them and spends 80 minutes each day climbing a hill.
"I will always be ready to serve in the 2022 Games if they are staged here," he said.
zhaoxinying@chinadaily.com.cn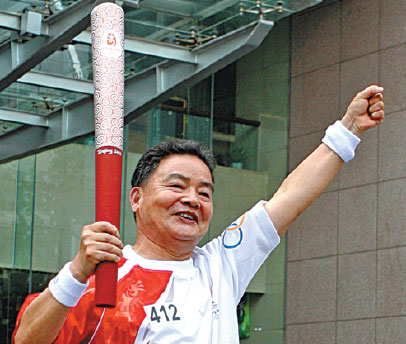 Chen Tingjun holds the torch he carried during the torch relay at the 2008 Olympics. He worked as a volunteer in the years leading up to the Games and during the event. Provided to China Daily
(China Daily 02/26/2015 page6)