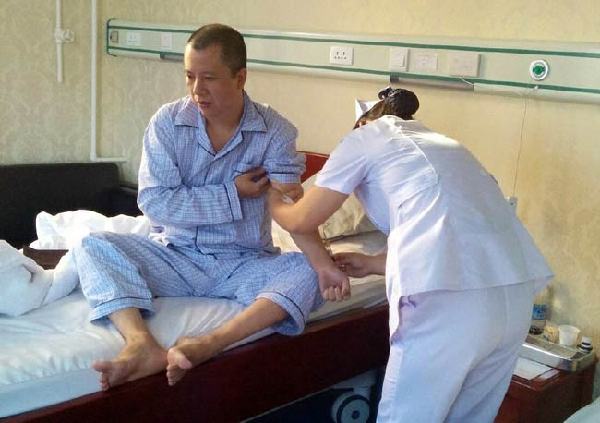 Nian Bin, who was acquitted and released on Aug 22 after being wrongly convicted four times, receives treatment at a Beijing hospital earlier this month.PROVIDED TO CHINA DAILY
FUZHOU -- A man acquitted after spending eight years in prison in east China's Fujian Province has received 1.14 million yuan ($186,000) of compensation from the state.
The Intermediate People's Court of Fuzhou City on Sunday ruled that Nian Bin, 39, should be paid 589,000 yuan for loss of personal freedom and another 550,000 yuan for mental suffering.
In August 2014, the Higher People's Court of Fujian Province overturned grocery shop owner Nian Bin's 2008 conviction for murder, citing insufficient evidence. This was the final ruling after three previous guilty verdicts and subsequent appeals.
In December last year, Nian asked the court for 15 million yuan in compensation including medical expenses, living allowances for his son and his sister's cost of accommodation, transportation and attorneys during the past eight years.
The court only supported his claim for the loss of freedom and mental suffering according to the state compensation law, an official with the Fuzhou Intermediate People's Court told Xinhua.
The court did not do anything that harmed Nian's health, he added.