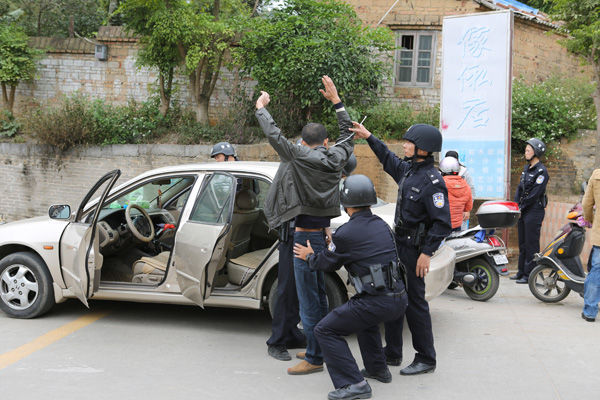 Police search a suspect during the crackdown on drug dealing and gambling in Wenche, Zhanjiang, Guangdong province, on Friday. Photos by Zhan Gongxuan / for China Daily
Police have detained 33 suspects in a large-scale raid on a village that has a reputation for drug dealing and gambling, the Zhanjiang bureau of public security said on Sunday.
More than 1,000 officers swooped on Wenche, a village in Zhanjiang, Guangdong province, and entered six drug dens and four casinos on Friday, the bureau said in a statement.
Fifteen bags containing different kinds of drugs were seized, along with nine cars and vans, 10 motorbikes, a large number of knives, equipment used for taking drugs, hi-fi systems and other items. However, the statement did not reveal the size of the drug haul.
The operation was the climax of an investigation that lasted several months.
Wenche has been the focus of a large number of drug and gambling cases.
An officer who declined to be named said the village was a major target in the fight against drugs, gambling and related crimes ahead of Lunar New Year on Thursday.
"Police are interrogating the suspects detained in the operation and pursuing and capturing others who escaped," he added.
"The secret drug venues and casinos were operated by suspects from the village who are on the run."
The officer said the fight against drugs and gambling would continue in the coming months, and hinted that more special operations will be launched around Spring Festival.
Sources at the Guangdong Provincial Department of Public Security said drug and related crimes were spreading from large cities to rural areas, posing new challenges for the police.
"Large amounts of methamphetamine, ketamine, ecstasy and other new types of drugs are being produced in the province's western, eastern and northern rural areas," one source said.
Police detained 182 suspects, including a former Party chief and village head, as part of an operation at Boshe, a village in Lufeng in the east of the province, in December 2013. A major methamphetamine production base was found in the village.
Boshe produced more than a third of the methamphetamine seized on the Chinese mainland over the past few years, according to Guo Shaobo, deputy director-general of the provincial public security department.
More than 20 percent of the families living in Boshe were found to have been involved in or have links to the production and trafficking of drugs. The village has a population of 14,000.
The province borders Hong Kong and Macao, and Guo said fighting drug and drug-related offenses is a difficult and long-term challenge.
"Domestic and foreign traffickers and producers have continuously tried to turn Guangdong into a major drug distribution center," he said.
"Guangdong has more than 457,000 registered drug addicts, a sixth of the country's total, and has been the focus of the battle against drugs for many years."
zhengcaixiong@chinadaily.com.cn