Seven companies were fined for employing child workers in Guangdong province in the fourth quarter of last year.
They are based in Shenzhen, Dongguan and Shantou, and are involved in the electronics, toy and jewelry manufacturing and catering sectors.
The companies are included in a list of 35 employers found to have seriously violated labor laws by using child workers or delaying the payment of wages.
The Guangdong Human Resources and Social Security Department, which released the list, said the children's employment had been terminated.
Seventeen of the companies that delayed paying wages are in Shenzhen, 12 are in Dongguan, and the others are in Zhuhai, Zhaoqing and Yunfu.
The largest amount out-standing was 2.39 million yuan ($382,600) owed by a company in Dongguan that makes molds, and the smallest, 43,184 yuan, was owed by an art trading company in Shenzhen.
A private hospital in Shenzhen failed to pay 1.1 million yuan on time, refused to hand over the cash and was given an administrative punishment.
The companies that owed overdue wages are engaged in a number of sectors including electronics, garments, hardware, timepieces, leather products and construction. Bosses of some of the companies fled after failing to pay wages on time.
The employers were fined or required to pay their workers within a specific time, and some were handed over to the police.
An electronics company in Dongguan was found to have employed five child workers and delayed payment of 550,000 yuan in wages. It was fined and required to end the employment of underage staff members.
The department started to issue quarterly lists of companies guilty of major breaches of the labor laws in the second half of last year.
The move is intended to strengthen supervision of employers by the public and facilitate harmonious capital-labor relations, according to officials.
The first list, which covered the second quarter, included 23 companies, and the third-quarter list contained 20.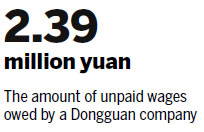 The human resources and social security bureau of Guangzhou, the provincial capital, this month released a list of companies that obeyed the labor laws to an outstanding degree, and a list of employers guilty of violations.
Breaches occur most often at privately-owned companies, where some bosses have poor knowledge of the law and do not have a legal adviser, said Tian Dangsheng, a lawyer at Guangzhou's Greenleaf law firm.
"To prevent such conduct, the government should take more initiative in inspecting companies and imposing punishments promptly," Tian said.
liwenfang@chinadaily.com.cn