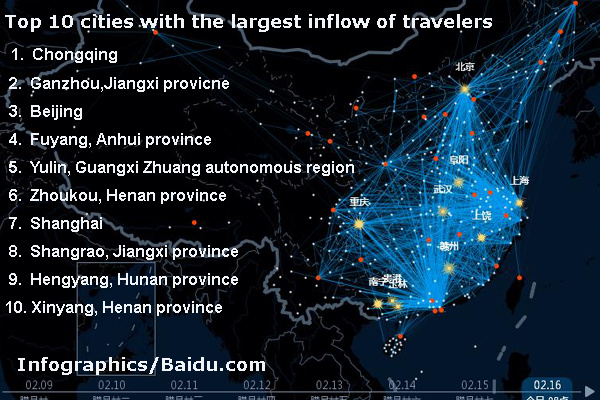 An interactive map by baidu.com shows China's top 10 cities with the largest inflow of travelers.
Beijing and other first-tier cities in China remain the major sources of outflux of passengers in this Spring Festival travel rush but the capital is also one of the top three destinations for the influx of travelers, according to search engine giant Baidu.com. 

This is an indication that an increasing number of people who work or study away from their hometowns are choosing to invite their families to celebrate Spring Festival at big cities rather than head home.
According to the latest data until Monday morning, the top five cities that saw most outflow of passengers were Beijing, Shenzhen, Shanghai, Dongguan and Guangzhou, where there are huge number of migrant workers.
The top five cities of influx of travelers were Chongqing, Ganzhou in Jiangxi province, Beijing, Yulin in Guangxi Zhuang autonomous region, and Fuyang in Anhui province. Apart from Beijing, the other four cities have been major sources of labor flow over the years.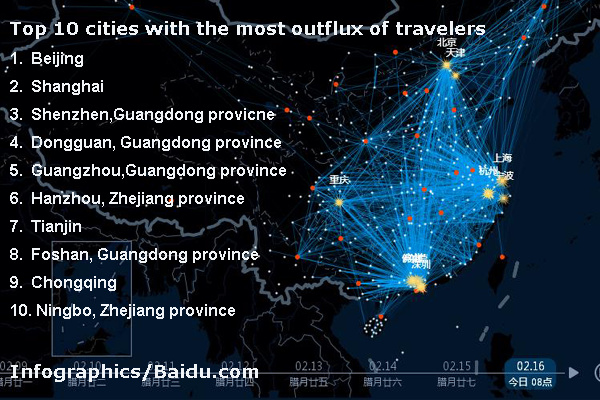 An interactive map by baidu.com shows China's top 10 cities with the largest outflux of travelers.
The trips from Shanghai to Lu'an, and Fuyang, two cities in East Anhui province, were the two busiest travel routes, the data showed.
Beijing to Zhoukou, Central Henan province, and Beijing to Harbin, Northeast Heilongjiang province, were also on the list of the 10 busiest travel routes. The other busy travel routes on the list include Shenzhen to Chongqing in Southwest China, and to Huanggang, Central Hubei province.
The list showed the difference of the sources of migrant workers in the three first-tier cities.
Baidu has been tracking the mass movement of people for this year's Spring Festival, or the Lunar New Year, since February 7, three days after the kick-off of the annual Spring Festival travel rush, also known as chunyun in Chinese.
The Ministry of Transport is anticipating an overall holiday-season passenger flow of more than 2.8 billion person-times in this year's Spring Festival travel, a 3.4 percent growth over 2014.
The interactive map of the research, which can be seen at http://qianxi.baidu.com/, is updated hourly, and has been logging the locations in which data requests were made to its maps service.

Hundreds of thousands of apps users have used its location technologies.