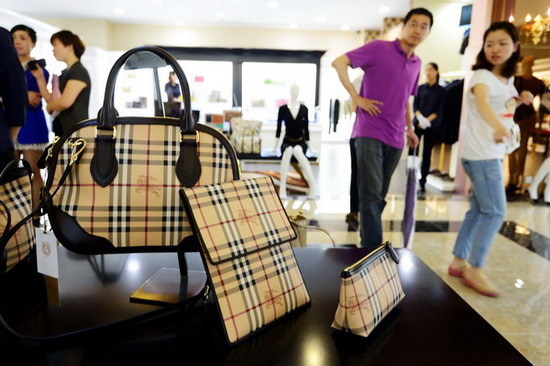 China has been an important market for global luxury brands. [Photo / For China Daily]
The upcoming Lunar New Year is not making life for luxury retailers in Northwest China's Shanxi province any easier as sales continue dropping amid the ongoing anti-corruption campaign.
"In the past, wearing top brands at work attracted admiration. Now it invites suspicion over corruption, so everybody is being low-key these days," said a local government official surnamed Gao.
Officials like Gao have become very cautious over what they wear in the coal-rich province, where more than 15,000 party cadres and government officials were investigated for disciplinary violation last year.
Corruption and bribery are seen as driving unsustainable growth for China's luxury market, where expensive watches, bags and clothes are given as gifts in exchange for business favors.
Gao wears a wristwatch to work, but his is a souvenir from a work conference. Luxury brands are now off-limits for officials.
In 2013, Yang Dacai, former head of work safety administration in neighboring Shaanxi Province, was sentenced to 14 years in prison after pleading guilty to taking bribes and holding a large amount of property which he cannot account for.
His corruption was exposed after internet users found pictures of him online that show him wearing different expensive watches. These pictures raised questions over how he could afford so many luxury watches with his salary.