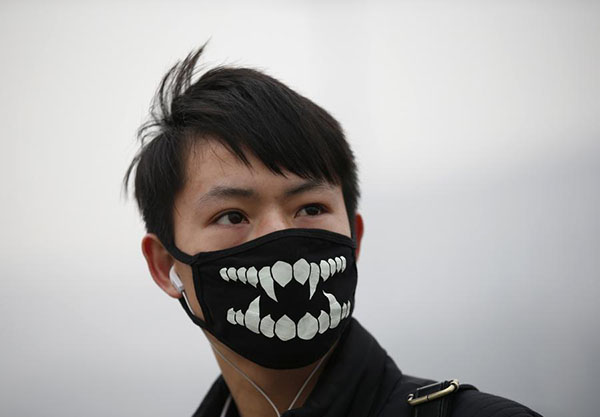 A man wearing a mask makes his way during a polluted day at Tiananmen Square in Beijing January 15, 2015. Beijing issued its first smog alert of 2015 on Tuesday. [Photo/Agencies]
BEIJING -- China's anti-graft watchdog on Sunday published 13 cases concerning breaches of law or discipline in the environmental protection sector.
The statement, published on the website of the Central Commission for Discipline Inspection (CCDI), detailed how officials from six provinces took advantage of their positions to interfere with environmental impact assessment and poke their fingers into environmental projects approval to seek profits.
In one case, Li Qiumin, a former official with Henan Provincial Environmental Protection Department, gave pollutant discharging permit to a factory which failed to meet requirements and overlooked the consequences.
Such corruption cases have caused adverse effect on society, sparked public complaints and damaged the image of environmental officials, said the statement, adding that fighting corruption concerns the efforts to clean the environment.
Earlier this week, Ji Lin, head of a CCDI inspection group, levelled criticism at the ministry of environmental protection, saying corruption and lack of supervision are behind widespread violations of the law and regulations in environmental assessments of development projects.
"Some officials and their relatives have meddled in environmental assessment process, and even set up companies to seek profits from winning contracts for projects where environmental assessment is required," Ji said.
Zhai Qing, China's deputy minister of environmental protection, said that pollutants had been cut by just "a few percentage points" since 2006 and had to drop much further if any progress is to be made.
"According to expert assessments, emissions will have to fall another 30-50 percent below current levels if we are to see noticeable changes in environmental quality," he said.
China has vowed to close vast swathes of ageing heavy industrial capacity and slash coal consumption in heavily populated eastern coastal regions as part of its war on pollution.
Last November, it imposed draconian restrictions on industry throughout northern China in order to guarantee air quality during the Asia-Pacific Economic Cooperation (APEC) summit held in Beijing. Zhai said emissions in the region fell by more than 50 percent during the meeting.
He said China's ability to control pollution was still "limited" and its policies still needed to be improved.
Only eight of the 74 cities monitored by the ministry met national pollution standards last year, according to official data published earlier this month.