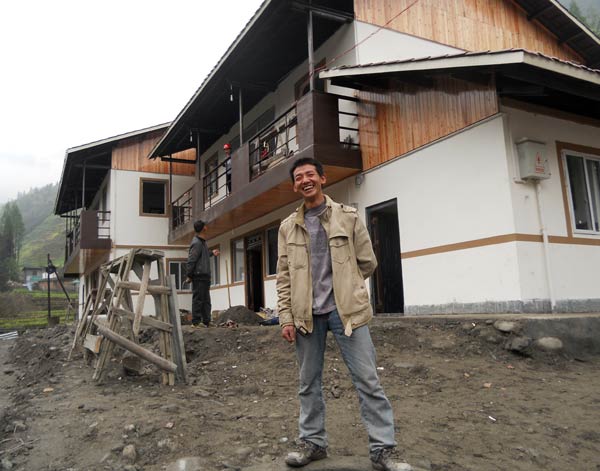 Chen Zongqiang stands proudly in front of the new house that he built with the help of local government subsidies in April. His old home in Yanxikou village, in Baoxing county, was destroyed by the Ya'an earthquake in 2013. Huang Zhiling / China Daily
Visitors to Chen Zongqiang's new home are impressed by the sausages and bacon that are hung in his spacious, villalike, two-story house.
"It is a tradition of Sichuan people to celebrate Spring Festival with sausages and bacon. Ours is an agricultural province," the 33-year-old resident of Yanxikou village in Baoxing county, Sichuan province, said with a smile. As he spoke, his 8-year-old son lit fireworks outside their house, which is at the foot of a mountain.
The festive air might give the impression of someone who has always enjoyed a wealthy life, but Chen was once a poor farmer whose life began anew after a 7.0-magnitude earthquake hit Ya'an, the administrative center of his home county, on April 20, 2013.
Chen's family had lived in a shabby wooden house on a mountain. His mother suffered from heart disease and was paralyzed. He had to toil in the fields and do odd jobs to support his mother, wife and young son.
The earthquake destroyed Chen's house. In the aftermath, his distraught wife left the family without saying goodbye.
No one from Chen's village died in the earthquake, but 188 houses were destroyed.
The earthquake was felt in all six counties and two districts of Ya'an, affecting an area of 12,500 square kilometers and more than 1.5 million people.
Unlike the Wenchuan earthquake in 2008, Sichuan rebuilt the Ya'an quake zone through its own efforts.
Following the Wenchuan earthquake, the biggest earthquake since the founding of the People's Republic of China in 1949, the central government asked 18 provinces and municipalities to help Sichuan recover from the disaster.
After the Ya'an earthquake, Sichuan's government subsidized farmers to rebuild their damaged homes.
Sichuan Vice-Governor Chen Wenhua said: "A household of one to three people received 26,000 yuan ($4,225); one with four to five people, 29,000 yuan; and households of six or more people, 32,000 yuan. Houses were also built for childless old people and orphans, and they were allowed to live in them free of charge."
After receiving 100,000 yuan from the government and charity organizations, Chen started building his new house, with a framework of lightweight steel, in November 2013. Working every day at the site with the help of neighbors, his house was completed in four months.
His wife didn't want to return, so Chen divorced her. But he is optimistic.
"It takes me some 10 minutes to walk to Lingguan, the nearest town, from my new house. It will be easier to find odd jobs to support my family in the town, where my son is in the first grade of primary school," he said.
According to the Ya'an municipal government information office, reconstruction of the 78,792 rural houses damaged in the Ya'an quake was completed at the end of December.
"Many of the houses are like villas and in more ideal locations, with good transport facilities," said Zhou Quanzhi, deputy chief of the office.
Contact the writer at huangzhiling@chinadaily.com.cn