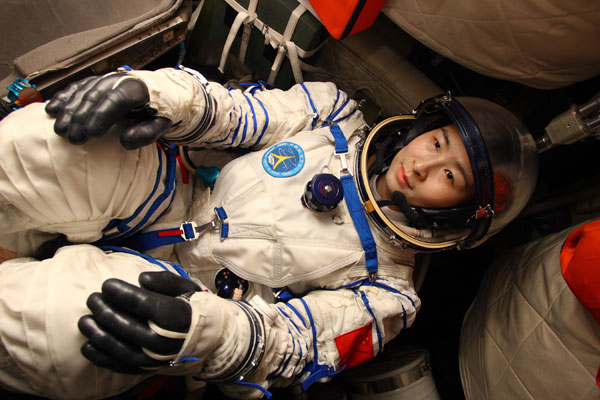 Astronaut Liu Yang during training on Friday at the Jiuquan Satellite Launch Center before she became the country's first female astronaut entering space on the Shenzhou IX spacecraft on Saturday. Qin Xianan / for China Daily
China's space authorities have since changed the selection standards and now say the ideal female candidate is a married women who has not yet given birth, he added.
Fifty-nine women have flown in space, out of total of 536 who have left Earth.
An earlier report by Time magazine said medical specialists believe it is actually male astronauts whose reproductive capabilities are more vulnerable.
Richard Jennings, who practices gynecology and aerospace medicine in the United States, was quoted as saying, "As far as the acute effects of radiation, men are much more at risk than women since the spermatogonia are very sensitive to radiation."
Shenzhou IX was the first manned spacecraft to dock with the Tiangong 1 space station. Liu was one of three astronauts who took part in the 13-day mission.
zhaolei@chinadaily.com.cn