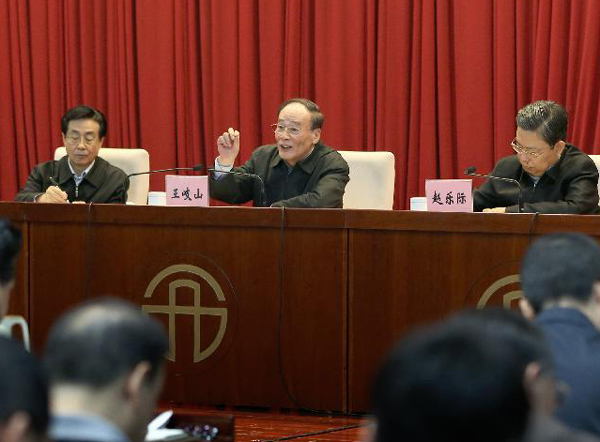 Wang Qishan (center), a member of the Standing Committee of the Political Bureau of the Communist Party of China (CPC) Central Committee and secretary of the CPC Central Commission for Discipline Inspection, addresses a conference on the work of central-level Party inspection in Beijing, China, Feb 11, 2015. [Xinhua]
China's powerful Central Commission for Discipline Inspection pledged on Wednesday to direct the country's anti-graft campaign toward China's large State-owned enterprises.
The first round of the effort will cover 26 large SOEs, including some of the nation's largest and most high-profile energy corporations, said Wang Qishan, chief of the CCDI.
They include China National Petroleum Corp, China National Offshore Oil Corp, China Huaneng Group, State Grid Corp of China, China Power Investment Corp and China Mobile Communications Corp, Wang said.
Teams of disciplinary inspectors will be dispatched to those companies after the Chinese New Year holiday on Feb 24, according to CCDI.
In a conference on Wednesday, Wang also said that judging from clues from the CCDI's previous investigations, SOEs suffer from common problems in their corruption control system, including buying and selling positions, embezzlement from dealing in materials and resources, rule bending in project bidding and factionalism and nepotism.
Worse still, Wang said, some SOE executives ignored the central government and failed to mend their ways in the anti-graft campaign for the last two years.
cuijia@chinadaily.com.cn