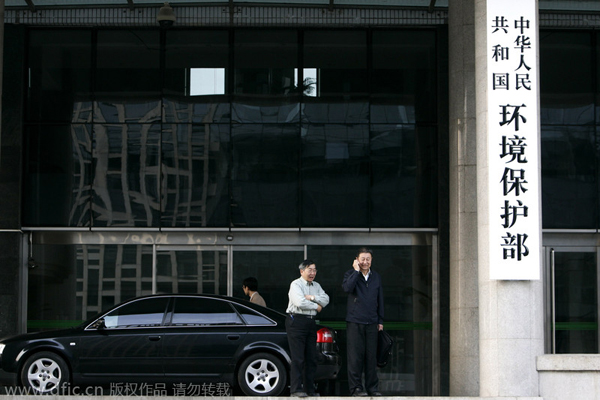 People walk out of the Ministry of Environmental Protection in Beijing, on March 27, 2013.[Photo/IC]
Inspections uncover poor management and bad behavior among staff members
China's anti-corruption authority reprimanded two central government ministries on Tuesday for poor management and bad behavior among their staff members.
In a rare move, the Central Commission for Discipline Inspection issued statements leveling criticism at two highly placed ministerial-level government bodies - the Ministry of Culture and Ministry of Environmental Protection.
The Ministry of Culture appointed a new minister recently, and the Ministry of Environmental Protection may soon change its minister, according to sources close to the central government.
Ministers at the two ministries are members of the State Council, China's Cabinet.
A statement on the commission's website said that problems found at the Ministry of Environmental Protection included violations of the law, lax supervision and corruption.
Ji Lin, head of the third central disciplinary inspection team, attended a meeting of senior officials from the ministry on Monday.
Ji said at the meeting that corruption and a lack of supervision are behind widespread violations of the law and regulations in environmental assessments of development projects.
This includes construction being carried out before approval is granted, or projects being modified without approval from environmental authorities, Ji said.
Monday's meeting was also attended by Minister of Environmental Protection Zhou Shengxian, the statement said. Ji addressed the meeting to give feedback to the ministry on the results of an inspection into it late last year.
"Some leaders, officials and their relatives interfered with the environmental assessment process of development projects, and even went so far as to set up companies to seek profit from winning contracts for projects where environmental assessment was required," Ji said.
The inspection team also received tip offs about suspected corruption among some officials, the statement said. In a separate statement, the commission pointed to problems found at the Ministry of Culture. These included management failures at enterprises affiliated with the ministry-causing a loss of State assets and risk of corruption-and an excessive number of arts events being awarded.
Liu Wei, head of the second central disciplinary inspection team, said at a meeting on Monday: "Some officials used ministry resources for business and to seek profit, infringing regulations....Management (at the ministry) is not strict and officials tend to spend an excessive amount of time entertaining themselves."
The inspection teams asked the two ministries to attach importance to the problems and to rectify them properly.