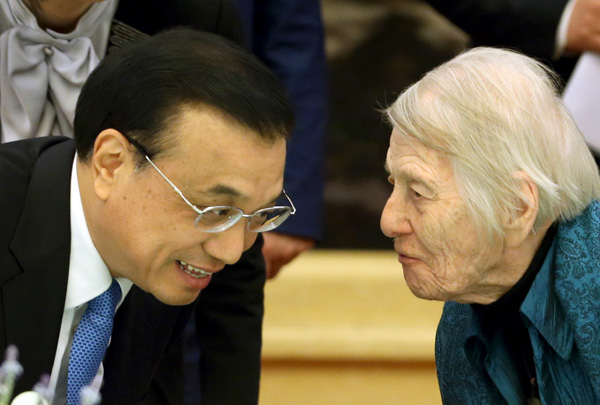 Premier Li Keqiang chats with Canadian educator Isabel Crook at the Great Hall of the People in Beijing on Tuesday after a meeting with more than 60 foreign experts. Crook, who celebrated her 100th birthday in December and has devoted most of her life to English-language teaching in China, has attended many meetings with Chinese leaders. Wu Zhiyi / China Daily

China will streamline procedures for visas, residency permits for expats, premier says
Pledging stepped-up measures to benefit talented foreigners on Tuesday, Premier Li Keqiang made no secret of China's desire to draw more talent from overseas as the nation deepens its reform and opening-up.
China will lower the threshold for foreigners to come to the country and streamline procedures for them to invest and start businesses here, Li told more than 60 foreign experts from32 countries at the Great Hall of the People in Beijing.
The country will offer more international products and services for them, making China a promising land for talent in various areas to innovate and succeed, he said in the meeting held by the State Administration of Foreign Experts Affairs. Li also promised a simpler visa policy and an easier path to a permanent residency permit, or green card, in China.
The meeting between Chinese leaders and foreign experts has become a much anticipated event before the Chinese Lunar New Year, which falls on Feb 19 this year. Tuesday's meeting marked the second such gathering for Li since he took office. He has called a number of times in the past for simplified procedures to facilitate foreigners' work and life in China.
The number of foreign experts in China has increased from fewer than 10,000 at the end of the 1980s to about 530,000 at the end of 2011, according to official figures. Since China began issuing green cards in 2003, it has granted about 500 to foreign applicants annually. The United States, by comparison, issues about 1million a year.
"China should try to adopt a more positive, proactive and open policy to attract international talent, and an efficient foreign talent management system is crucial," said Yrjo Kalervo Sotamaa, professor emeritus at the University of Art and Design Helsinki, in Finland.
"For recruiting foreign talent, employers and the market should play a decisive role. The main contribution of government is to create an environment and provide services," said Sotamaa.
zhaoshengnan@chinadaily.com.cn