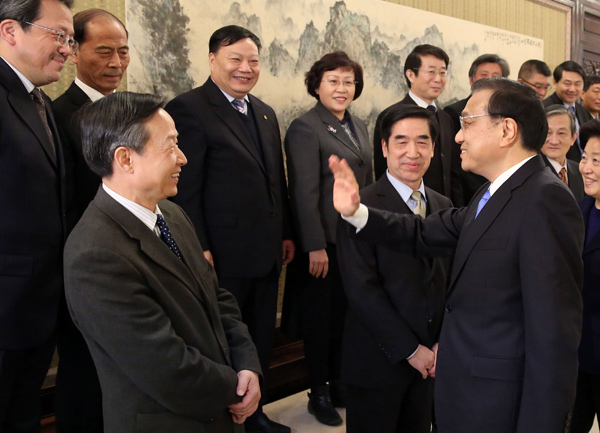 Premier Li Keqiang meets new members of the State Council's Counselor Office and the Central Literature and History Research Office in Beijing on Monday. [Photo by Wu Zhiyi / CHINA DAILY]
Premier Li Keqiang has asked local government officials to sign a written pledge to carry out major economic and social policies faithfully, saying that dereliction of duty has set back central government economic growth measures.
Li said large projects and investment plans were not completed well at local level last year, especially in the agriculture and water conservation industries, although the central government had approved projects and allocated funding and land.
"How come? The problem originates from the mental outlook of some officials who failed to take their share of the responsibility that they are paid to," Li said at a meeting on clean governance on Monday.
The meeting was attended by Wang Qishan, head of the Communist Party of China's leading anti-graft agency the Central Commission for Discipline Inspection, and members of the State Council.
"Some officials are taking a wait and see attitude, being reluctant to implement major policies of the central government, and not caring about their own political achievements," Li said.
China's economic growth slumped to the lowest level in 24 years in 2014 with annual GDP expansion of 7.4 percent.
"Anti-corruption work is still tough. Landslide-style corruption, in which officials at different levels collude with each other and engage in graft together, is being seen in various sectors," Li said.
He urged his colleagues to include all government revenues in the budget to prevent extra spending and to curb abuse of power.
Ren Jianming, a professor of clean-governance research at Beihang University in Beijing, said Monday's meeting was an annual State Council event, at which the premier usually calls for self-examination from within the government, but Li's remarks on dereliction of duty were especially sharp this year.
"Many local government officials are reluctant to do their jobs at the moment, afraid of being punished for making wrong decisions.
"It is also no longer possible for them to take personal gain from pushing forward large investment projects, as stiff anti-corruption measures have silenced collusion between government and businessmen," Ren said.
Li also held a seminar with newly recruited members of the State Council's Counselor Office and the Central Literature and History Research Office in Beijing on Monday.
He asked counselors to look into the latest global developments, with the world economy being influenced increasingly by geopolitical tensions and commodity prices.
Shen Tong contributed to this story.
zhaoyinan@chinadaily.com.cn