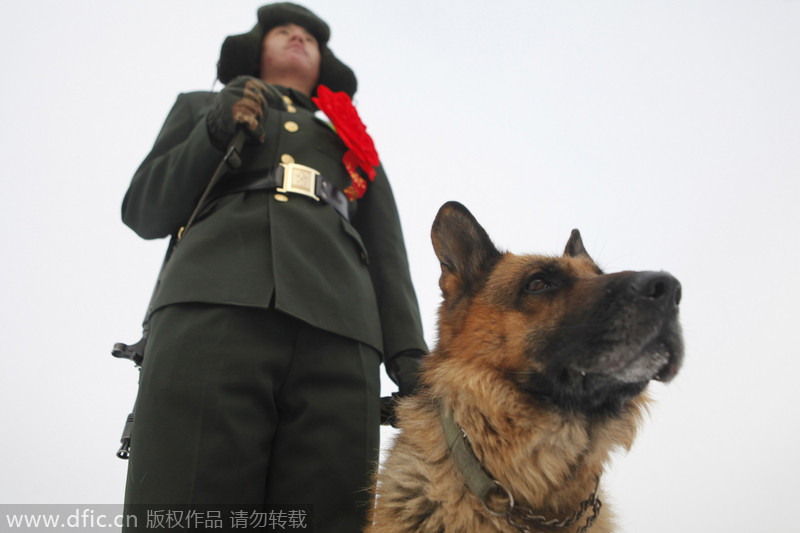 Xiong Xing and Xiaoxiong are on guard duty for the last time in Heihe, Northeast China's Heilongjiang province, on November 30, 2014. The army dog has been his constant companion for the past two years. [Photo/IC]
Military dogs are to be used by the People's Liberation Army for combat operations, anti-terrorist tasks and riot control, according to a new regulation.
The regulation defines a military dog as "a special combatant and an irreplaceable military resource".
PLA Daily quoted an unnamed officer at the PLA General Staff Headquarters who oversees military dogs as saying that this means the military will use them for a wider range of missions, including combat operations.
The dogs are used currently for guard duties, patrols and search-and-rescue missions, the officer said. They are stationed mainly at military airports, naval ports, missile bases, ammunition warehouses and border inspection stations, he said.
PLA Daily said the regulation also covers breeding, feeding and epidemic prevention for military dogs, improved management of the animals and their retirement from service.
Zou Xingkui, a senior captain and commander of the main PLA navy dog training base in Hebei province, told China Daily, "The regulation encourages combat units to deploy military dogs. Such dogs have been employed extensively by combat troops in the United States armed forces.
"It will supplement the PLA's combat capability significantly, as dogs are much more agile and responsive than human soldiers."
He added, "Dogs trained at my base have been sent to numerous units of the navy, including marine garrisons on islands and reefs in the South China Sea."
The PLA marine corps is expected to be the first combat force in the navy to use dogs for combat duties, Zou said.
Before the regulation was issued, several PLA combat units had used dogs in battlefield training.
A dog training regiment under the Nanjing Military Command has trained dogs to clear mines, help with detonation tasks and to carry out reconnaissance missions, PLA Daily reported.
The PLA set up its first military dog training base in 1949 in Beijing.
Yu Bin, a retired senior colonel from the PLA ground force who was head of the military's largest dog training center in Hebei, said two dog teams were formed at the Beijing base in the 1950s before being sent to Heilongjiang and Yunnan provinces.