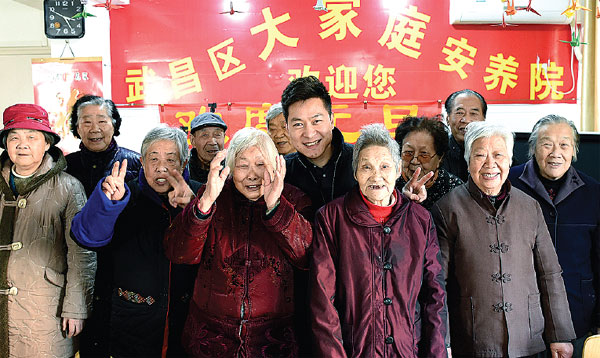 Chen Qing (center), the owner of a care home for the elderly, poses with residents of the home in Wuhan, Hubei province, on Jan 23. Xiao Yijiu / Xinhua
Compensation for houses enables apartments owner to improve the quality of life for elderly in Wuhan
When 33-year-old Chen Qing became the owner of 35 apartments worth more than 40 million yuan ($6.5 million) in downtown Wuhan, Hubei province, as compensation after his two houses in the suburbs were demolished in 2008, he resisted using the assets to expand his family's catering business. He thought instead about the plight of his grandparents before they died, and decided he wanted to improve life for the elderly.
Chen sold nine of the apartments to raise capital and converted the others into a community care home for the elderly in July 2013.
Covering some 3,700 square meters, Chen's care home is the largest private care home in the city.
Young people like Chen who become wealthy overnight because of demolition of their home are often called chaierdai, or the demolition second generation. He doesn't like the title, preferring instead to be known as the president of the Big Family Nursing Home.
"My family was poor in 1990s and my grandparents were bedridden for years before they passed away. Because of poverty they did not receive the good care old people receive these days in nursing homes," Chen said.
"Their poor experience is the biggest regret of my life. My greatest wish is to help more old people have a better life in the final stage of their lives," he said.
Chen studied in Australia, graduating with a major in business information management, and he completed a master's degree in the same subject. Before returning to China, he held a good job in Australia with an annual salary the equivalent of more than 400,000 yuan.
"I did not like living overseas and hoped to establish my own business when I came back to China," he said.
Chen's idea to open a care home had the backing of his father, and with that backing he started doing market research. In the following three months, Chen visited almost all of the public and private, small and large care homes for the elderly in Wuhan.
He enjoys his role as head of a care home, and also the appreciation of the residents who look upon him as their grandson.
His care home is located in a community, and the renovation has a homely feel even though it can accommodate 200 people.
A place at the home can cost from 1,460 yuan to 2,560 yuan a month, which is relatively inexpensive, given the facilities and service it provides compared with other homes in the city.
Worries and wishes
The average age of residents at Chen's care home is 83. About 70 of the 120 people living there now have lost the ability to care for themselves.
"For most of the old people, the time spent at the care home is the last time of their lives. My next working targets are to raise our level of nursing and provide more professional care for the residents to make them happy with a high quality of life," he said.
"Compared with public care homes for the elderly, private ones have more options to create a homelike atmosphere. I also consulted with and learned from care homes for the elderly overseas. I will gradually attempt to make changes, but as China has totally different conditions from foreign countries, ideas from overseas may not be suitable for us," he said.
Meng Mingman, 83, is a popular resident at the care home who likes singing and telling jokes.
"I was a nurse before retirement, and both my son and daughter are very filial. I chose to live here myself. My children are too busy to take care of me, and I don't want to be a burden to them. More important, even living with them, I still feel lonely," she said.
"But here it is different, with people about my age, and we have countless things to chat about. We can play cards, dance and sing together. I feel much happier living here than I did before," she said.
In January, 18 months after opening, the home managed to make a profit for the first time.
"I just hope that I can help more old people to spend their remaining years in comfort, and that their children and grandchildren do not have the regret my parents and I have," he said.
Zhou Lihua contributed to this story.
Contact the writers at hena@chinadaily.com.cn