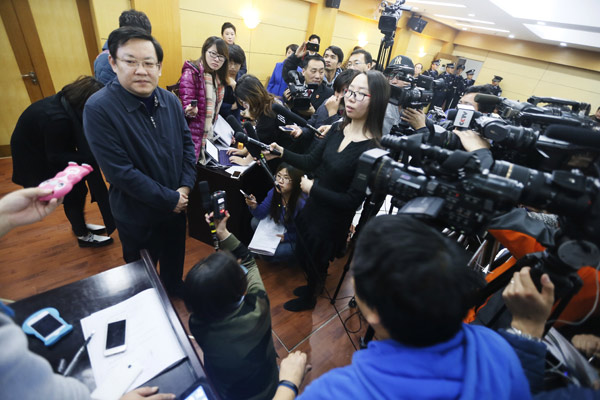 Jiang Fan, Pinggu district government head of Beijing, is receiving interview after presenting as a defendant in the district court in a land-dispute case raised by a local villager committee charging the district government for violating their land use rights last Friday. The villagers' lawsuit was dismissed at last. Cao Boyuan / for China Daily
Under new law, civil servants named in lawsuits, not just their lawyers, must appear
The attendance of city officials at court hearings in Beijing has increased as China has promoted the rule of law.
The Beijing High People's Court said on Tuesday that officials' attendance at hearings reached 99 percent, according to records of civil cases involving government-related litigations.
Recent amendments to civil procedure law involving government-related litigation has created a favorable legal environment for citizens in lawsuits against governmental bodies, stipulating that government organizations have an obligation to send officials to hearings rather than simply authorizing lawyers to act on their behalf.
As the new law comes into effect in May, governmental organizations and agencies in Beijing have shown more awareness of their obligations in litigation and sent more heads and officials to participate in court hearings. Both department heads and lower-level officials will face the prospect of judicial punishment if they fail to show up in court.
In 118 lawsuits involving Pinggu district government departments in Beijing over the past three years, department heads have presented in more than 60 percent of the court hearings.
Tong Weidong, a researcher for the National People's Congress, China's top legislative body, said the amendments specify the government's responsibilities in litigation, and officials are prohibited from delegating attendance at hearings to their lawyers. Officials have to be there to answer questions, he said.
Jiang Fan, head of the Pinggu district government, who attended a court hearing as a defendant on Monday, said he feels it's a must for officials to participate.
"It helps government officials to better understand their duties in governance and to have the knowledge of how to perform their duties in line with the law," Jiang said.
Wu Zaicun, deputy head of Beijing's high court, said officials' attendance at court hearings is of vital importance in promoting the rule of law.
"In most cases involving government departments, it is an obligation for officials to listen to the requests from the masses and to improve their capability to govern," Wu said.
Under the new law, people have the right to meet officials in court and question government decisions after they file lawsuits, he said.