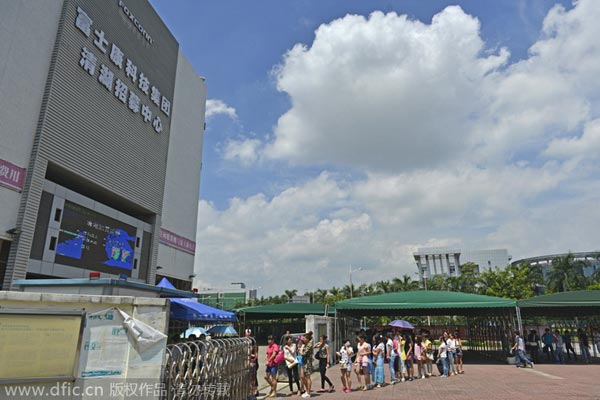 Chinese job seekers queue up at the recruiting center of Foxconn owned by Hon Hai Precision Industry in Shenzhen, Guangdong province, 28 July 2014. [Photo/IC]
Foxconn, among some other companies in China, allegedly forced their employees work to overtime, which resulted in occasional karoshi (death caused by overwork or job-related exhaustion) and suicide, an official with the All China Federation of Trade Union (ACFTU) said on Monday, Beijing News reported.
Guo Jun, secretary of ACFTU's secretariat, made the remarks during a press conference in Beijing on Monday.
According to Guo, employees in these enterprises work for more than 10 hours everyday and rarely have days off. Some privately owned, or middle- and small-sized enterprises don't offer paid leave to workers. These illegal long hours lead to various psychological issues among their employees, which sometimes cause karoshi and suicide.
Foxconn, a major supplier of components to Apple, has been in the news in recent years after a series of suicides by workers, which activists blamed on tough and high-pressure working conditions.
Lack of investigations and light punishment are reasons behind the illegal overtime, Guo said, adding that many companies even learn from Foxconn how to make more profits.
There are still a large number of cases involving infringing employees' legal interests in China and the next step is to enforce supervision and set up systems on exposure and public censure, said Guo.
Foxconn on Tuesday issued a statement explaining the dilemma it faces on the issue of overtime work and questioned Guo's allegations on the causality of overtime work and suicide.
"Overtime is a challenge that all the companies face. On one hand, the employees want to earn more by working more; on the other hand, the companies need to conform with the country's laws and regulations to safeguard their legal interest," said the statement.
It is said many of its rural workers were actually willing to work overtime in order to make more money. In October, workers at Foxconn's Chongqing plant went on protest after the company stopped overtime work, according to a report by guancha.cn.
"We were shocked by Guo's conclusion on the link between overtime work and suicide," the statement said. "We also want to ask Guo to visit and listen to the grassroots," it added.
Foxconn has more than one million employees in the Chinese mainland. In 2010, a total of 14 workers committed suicide.
While Foxconn may be a particular case, working overtime is common in China. According to a report on the Chinese labor market released by Beijing Normal University on Nov 22, about 90 percent of all the industries require more than 40 hours' work per week and half of them need more than four hours' extra work.
It is still unknown how many actually earn more with the extra hours, but a spate of karochi cases have been reported in recent years.
A sales manager of Baidu died of possible job-related exhaustion at the age of 27 in 2011. His death drew lots of sympathy on the Internet and aroused public concern on the issue of karoshi.
In 2013, a Taobao store owner died before the online shopping spree on Nov 11. Last year, a 33-year-old CEO of an Internet company died of heart attack caused by overwork.