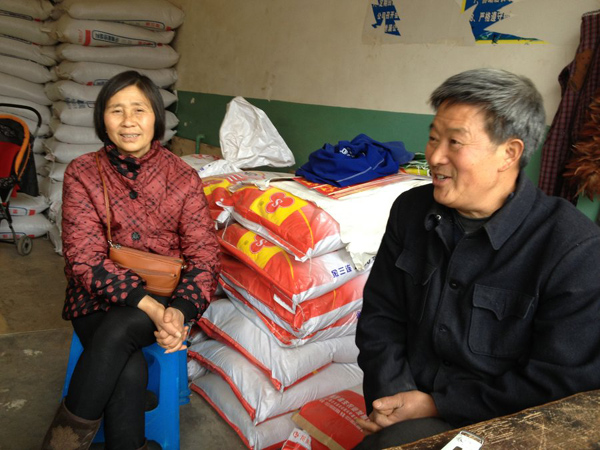 Zou Yuhua (L) and Zhang Mingfa are at their feed store on Jan 26 in Jianyang, Southwest China's Sichuan province.[Photo/CFP]
"We sent the boy to school. We sent him to a driver's training school after he left the army. We bought him a small truck after he got a driver's license. But in 2006, he left after he learned we were not his biological parents, and we had adopted him by mistake," Zou said.
However, it was a leaflet distributed by their own son, Zhang Huayong, that led the couple to him.
He had been adopted by a couple more than 40 kilometers away. When he was 4, his adopted parents told him he was given to them by the Jianyang county family planning bureau.
But when he got older, he decided to look for his biological parents. In late November, he had 50,000 leaflets printed with information about his own parents.
Only five days after he started distributing them, a neighbor of his biological parents received one and showed it to the couple.
They met soon after Zou called him, and a paternity test showed she was his biological mother.
"I'm so overjoyed to have found my own parents," the son said.
"My parents have under-gone many hardships since they lost me as a child. I will repay them," he said.