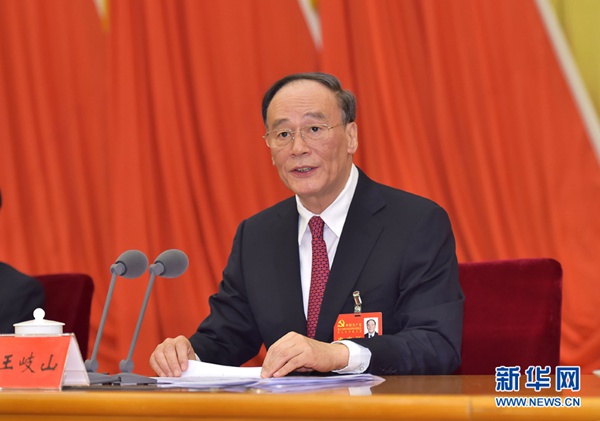 Wang Qishan, secretary of the CPC Central Commission for Discipline Inspection (CCDI), made the remarks in his work report delivered at the fifth plenary session of the CCDI, Jan 12. [Photo/Xinhua]
BEIJING - A senior leader of the Communist Party of China (CPC) has called for long-standing and specific disciplinary inspections, stressing an anti-graft fight that the Party "cannot afford to lose."
Wang Qishan, secretary of the CPC Central Commission for Discipline Inspection (CCDI), made the remarks in his work report delivered at the fifth plenary session of the CCDI held earlier this month. The full report was made public Thursday.
According to Wang, with the active participation of the people, the CPC has been deepening the fight against corruption constantly, putting a check on the spread of undesirable work styles and corruption.
The handling of cases implicating corrupt high-ranking officials -- such as Zhou Yongkang, Xu Caihou, Ling Jihua and Su Rong -- showed the CPC Central Committee's unwavering volition to punish corruption and strictly manage the Party.
Disciplinary officials have been focusing on key wrongdoing such as forming fractions and cliques, exchanging gifts bought with public money, banquets, travels, entertainment activities and ceremonies paid with public funds.
"The situation has improved, but the root is still there even though the tree has fallen. New tricks might be pulled under huge pressure, and our mission to prevent re-occurrence is arduous," Wang said, describing the war against corruption and undesirable work styles as one the CPC "cannot afford to lose."
Underlining an intensified disciplinary inspection campaign nationwide, Wang's report revealed that a total of 2.72 million whistle-blowing letters and complaints by citizens were received by disciplinary organs last year, up from 1.95 million the previous year.
Figures from the report show that there were 226,000 cases filed as a result of the complaints, with 218,000 closed. The cases led to 232,000 officials being given Party or administrative punishment, a yearly increase of 30 percent, and another 12,000 people were transferred to judicial organs on criminal charges.
However, Wang said some officials still haven't realized the grave and complicated anti-graft situation and don't have a full picture of how well discipline is enforced within jurisdictions, highlighting slack supervision and inspection in some areas as well as ineffective measures to address grassroots disciplinary violations.
While calling for harsher punishment, wise use of personnel, improved regulations and strengthened management, Wang urged central disciplinary groups to expand inspection coverage and increase frequency so as to effectively uncover wrong-doings in Party and government departments, state-owned enterprises and civil service institutions.
"The key is 'specific'. With clear goals, flexible actions, precise detection, inspections should focus on a specific case, person, unit, project or fund," Wang told inspectors, stressing that failing to spot violations or report to higher authorities will be viewed as negligence of duty.
According to Wang, the CCDI plans to increase scrutiny over state-owned enterprises in 2015 and pay more attention to uncovering misconduct by officials in key positions who meddle in construction projects, land lease, managing state properties, using office power to seek personal benefits and other forms of corruption and duty negligence.
Vowing to exert more effort to pursue the liabilities of wayward officials as well as their superiors, Wang also urged improvement on international cooperation so as to seize corrupt officials hiding overseas and retrieve lost public funds.