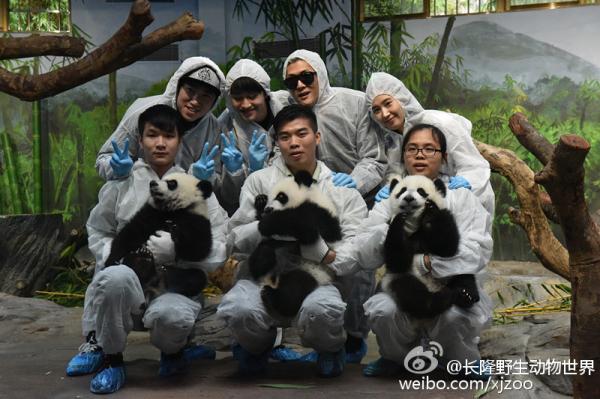 Four South Korean entertainers pose with the rare panda triplets in the Chimelong Safari Park. [Photo from weibo.com]
China's wildlife protection authority issued a warning to a zoo in South China's Guangdong province after several South Korean entertainers visited the zoo for a TV show filming and posed with rare giant panda triplets, reported thepaper.cn on Wednesday.
The warning came amid beefed-up disease prevention efforts to protect pandas from a fatal virus that has claimed three lives of this endangered species.
The State Forestry Administration (SFA) told the zoo in Guangzhou to "stop any close contact between visitors and endangered wild animals" after the Chimelong Safari Park posted on its official account at Sina Weibo, a popular microblogging site in China, photos showing South Korean entertainers posing with rare panda triplets.
The panda triplets, born on July 29, 2014, are the only known panda triplets in the world.
In response to the warning, Yang Hua, the PR manager of the company in charge of the zoo, told thepaper.cn that the entertainers visited the zoo to experience zookeeper's work such as cleaning cage, preparing food and feeding the pandas, and there was no direct contact between them and the panda.
The SFA called for enhanced efforts in prevention of diseases that may infect endangered species, including panda, after canine distemper hit a wildlife center in Shaanxi last year, killing three pandas and leaving another one in critical condition.
Canine distemper, a disease often found among dogs, can also infect pandas. It is a fatal disease for them, with the death rate as high as 80 percent.