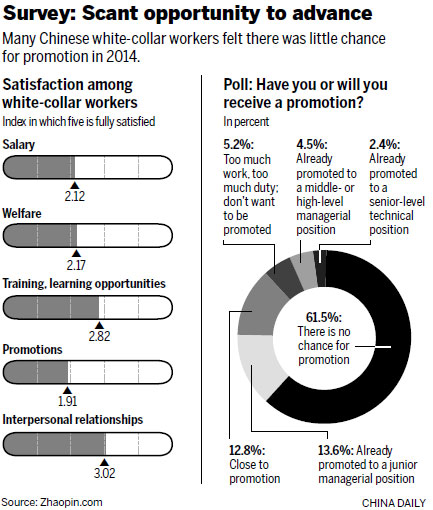 Chinese professional workers, or white-collar workers, are far from satisfied with their jobs, according to the latest survey conducted by online recruitment services provider Zhaopin.com.
The average score for job satisfaction given by 9,272 respondents was a low 2.41 out of 5, less than half the possible full score. Interpersonal relationships scored the highest among the five surveyed categories, receiving an average 3.02. Training and learning opportunities came next on the list, scoring an average 2.82. Welfare and salary came third and fourth, scoring 2.17 and 2.12.
Satisfaction with promotions was rated the lowest among all surveyed categories, reaching only 1.91. A majority, 61.5 percent of the respondents, said they had been given hardly any chance to be promoted or could see no such possibility ahead. About 12.8 percent of the interviewees said they are coming close to the day they will be promoted. Only 5.2 percent said they do not want to be promoted, because that would involve more responsibility.
Li Shanshan, 27, has been working in Beijing as an account manager at a multinational public relations agency for about two years. She is now thinking of changing her job, because she thinks it will take her a long time to be promoted.
"It is totally fine with me to work under pressure and on a very tight schedule," she said. "I was prepared for that before I entered this industry. However, it seems to me that the promotion mechanism within my current company is a little bit old-fashioned. People are gradually promoted according to their years of service instead of their performance or ability. Therefore, I would rather opt for another industry or another company that would give more weight to the individual's ability and potential."
It is not only people working in first-tier cities that are faced with such challenges. Those working in lower-tier cities may have come across similar situations in their career. Sun Jiamin, 31, has been working as a supply chain assistant manager in a multinational manufacturing company in Suzhou in East China's Jiangsu province for about eight years since her graduation from college. Throughout the eight years, only one chance at promotion came her way, but little progress has been made with it.
"For such a world-leading company that is also the industry leader, you can imagine how strict the company's regulations are. The competition is quite tense. As I am not that aggressive or ambitious, little chance of promotion was given to me. However, this has not bothered me too much. I am quite content with my current job and the salary. It is easier to live with less pressure anyway," she said.
Zhaopin found that a company's existing promotion mechanism is the main thing that affects an employee's chances, according to 35.1 percent of the respondents voting for this category. The effort made by each employee came second, while popularity among colleagues and bosses was the third most important element.
Unsurprisingly, people working at senior management levels were most satisfied with their promotions. Next to them were medium-level management staff. The lower the position, the less satisfied people were with their promotion prospects, according to Zhaopin.
shijing@chinadaily.com.cn