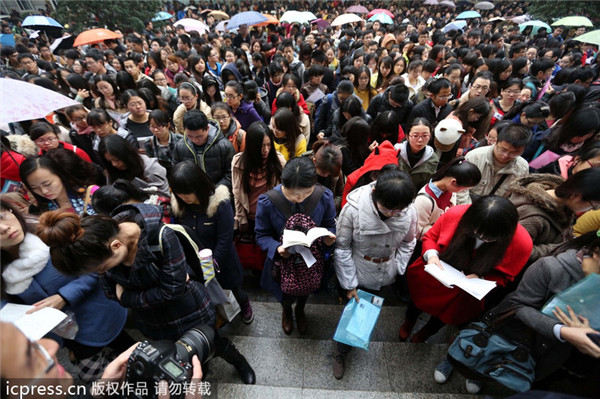 Applicants for the national-level civil servant exam wait outside the test site at Nanjing Forestry University in Jiangsu province in this Nov 24, 2013 file photo. [Photo/IC]
BEIJING - China's 40 million civil servants and staff of government-sponsored institutions will get a monthly salary increase of about 300 yuan ($48) on average, a senior official said on Friday.
"The salary increase is not big," said Li Zhong, spokesman of the Ministry of Human Resources and Social Security, at a press conference, who said previous media reports of a 60-percent pay raise were not accurate.
The salary adjustment is made to coincide with the country's move to unify the old-age pension system for private sector employees, civil servants and employees of government-sponsored institutions, according to the spokesman.
The basic idea behind the pension reform is to break the long-held dual system in which non-public employees had to pay for their own pensions while civil servants and staff of government-sponsored institutions enjoyed pensions without contributing to the funds during their working years.
"A major part of the increase in the basic salary is to set off the cost of the reforms," Li said, adding that the country decided to ensure that incomes of most of those affected not be lowered after paying the premium.
Civil servant salaries in China generally consist of three parts: basic salary, additional allowances and merit pay.
The adjustment plan, which will give the first raise in the basic salary since 2006, also aims to optimize civil servants' salary structure by merging some additional allowances or merit pay with the basic salary, Li said.