Shanghai government on Wednesday issued an investigative report on stampede tragedy that killed 36 and injured 49 during the New Year's celebration on the Bund, or the waterfront along the Huangpu River.



The report said the stampede tragedy falls under a public security matter and that public security authorities need to be held responsible.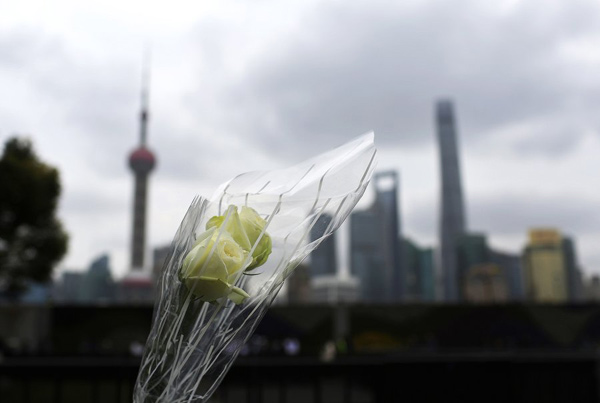 A bouquet of flowers is pictured at the site of a memorial ceremony for people who were killed in a stampede incident during a New Year's celebration on the Bund, with Shanghai's Pudong financial district in the backgound, Jan 6, 2015. [Photo/CFP]
Eleven officials in Shanghai were punished over the New Year's Eve stampede that left 36 people dead and 49 injured.
Four top district officials, includingthe Huangpu district Party chief, district governor and police chief as well as deputy police chief, were sacked for insufficient preparation and response in the New Year's Eve stampede, according the decision of Shanghai municipal authorities.


Seven other officials in tourism, public security and urban management, received disciplinary punishments, said the decision announced Wednesday at a press conference.
It was lack of public security that caused heavy casualties and serious consequences, said an investigation report released at the conference.
Inadequate prevention and preparation for the mass activity and poor on-site management should be blamed.
No risk assessment was made for the change of the New Year countdown venue, it added.
The district tourism bureau released information on the New Year countdown activity on Dec 30 and the publicity of the event was late and insufficient, the report said.
The security staff were very insufficient as only about 500 police and urban management personnel were deployed in the area.
At the press conference, Zhou Bo, vice mayor of Shanghai, expressed deep condolences for those affected by the incident and apologized to stampede victims and their families on behalf of the municipal Communist Party of China committee and government.

The deadly stampede happened at 11:35 pm on Dec 31, 2014, when people assembled on Shanghai's historic riverfront walk, the Bund, to usher in the new year.