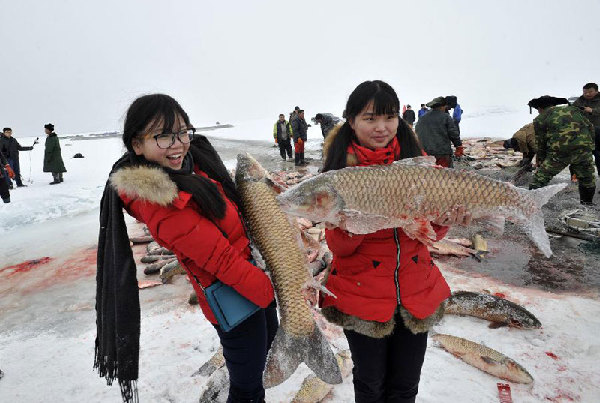 Winter fishing kicked off at Bosten Lake, China's largest inland freshwater lake in Northwest China's Xinjiang Uygur autonomous region, Jan 18, 2015. [Photo/Xinhua]
Terrorist attacks in the Xinjiang Uygur autonomous region have harmed economic growth, the regional development and reform commission said on Tuesday.
The tourism industry, especially in southern Xinjiang, was hit hard in 2014 because the fear of random terrorist attacks made some people choose not to travel to Xinjiang-a popular tourist destination in China.
Although Xinjiang's GDP grew by 10 percent in 2014, higher than the national average of 7.4 percent, it failed to reach the 11 percent growth target.
This was mostly because of the slowdown in tourism, according to a report released by the commission on the sidelines of the annual session of the 12th Xinjiang Regional People's Congress, which opened on Tuesday.
Tourism brought income of 65 billion yuan ($10.5 billion) to Xinjiang in 2014, a 3.4 percent decrease year-on-year. The income from foreign visitors dropped by 15 percent compared with the previous year, said Yinam Naserdin, director of the regional tourism bureau.
Sales in more than 70 percent of hotels in Xinjiang fell below last year's levels.
Meanwhile, a campaign to reduce terrorist attacks and prevent them from spreading to other parts of China has shown initial results, Shohrat Zakir, the newly appointed acting chairman of Xinjiang, said in a report released on Tuesday.
Both the central and regional government allocated special funds in 2014 for the campaign to support legal departments in Xinjiang to step up efforts to prevent and respond to terrorist attacks, according to the regional department of finance.
The yearlong campaign, which also aims to prevent large-scale terrorist attacks in the region, was launched the day after a terrorist attack at a morning market in the capital Urumqi on May 22 left 39 people dead and 94 injured. The campaign will be extended to at least the end of this year, Zhang Chunxian, Xinjiang's Party chief, said this month.
A series of terrorist attacks struck the region in 2014. On July 28, the terrorist attack in Shache county, southern Xinjiang's Kashgar prefecture, claimed 37 lives and injured 13 people. Fifty-nine terrorists were shot dead at the scene and 215 arrested.
"Everyone, every department and every prefecture, should contribute to the region's long-term, complicated and tough battle against separatism and terrorism because it's an urgent mission in 2015," Shohrat said. "We must solve the problems of tradition with respect and handle religious issues with the rule of religion. Meanwhile, we must use the rule of law to crack down on terrorism."
Shohrat said increasing employment in southern Xinjiang, which is relatively less developed, and giving priority to education are both key to ensuring the region's long-term stability.
"The regional government will provide vocational training for all junior or senior high school graduates in southern Xinjiang and teach them the national common language of China so they can find suitable jobs," he said.
Xinjiang will also support Han Chinese students and students from other ethnic groups studying together in the same schools, instead of going to segregated schools. They are also encouraged to sit in the same classes and live in the same dormitories, Shohrat added.
Contact the writers through cuijia@chinadaily.com.cn