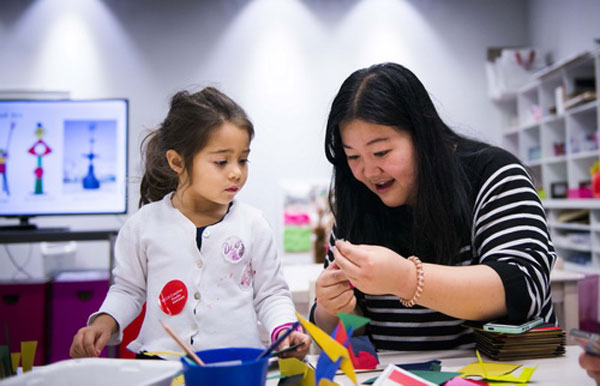 A scene from a previous Beijing International School Expo. [Photo provided to chinadaily.com.cn]
Choosing a school for the children in a foreign country is no easy decision for expat families. If you have school-age children and happen to live in the capital, one event you should not miss this weekend is the 2015 Beijing International School Expo.
Held by Beijing-based beijingkids (English) and JingKids (Chinese) magazines, the annual international schools fair will gather the cream of the crop of international schooling options in Beijing all under one roof.
You will have the chance to ask questions of admission teams and learn what each school can offer.
At the same time, there will be plenty of play options to keep the children occupied. There are free play areas manned by different organizations to offer kids of all ages reading, face painting, painting and more art-based activities.
Here are the schools and education centers that will be in attendance at the school expo at the Kerry Hotel on Jan 24-25 from 10 a.m.-4 p.m.
Schools
3E International School
AOJI International School
Aurora Academy International
Beanstalk International Bilingual School
Beijing Changping New Oriental Foreign Language School
Beijing City International School
Beijing Collegiate Academy
Beijing Huijia Private School
Beijing International Bilingual Academy
Beijing Limai Foreign Languages School
Beijing New Talent Academy
Beijing No.4 High School International Campus
Beijing SMIC School
Bejing Haidian International School
Bejing Royal School
British School of Beijing
Canadian International School of Beijing
Daystar Academy
Etonkids International Bilingual Kindergartens
Haileybury International School
Harrow International School Beijing
House of Knowledge International School & Kindergarten
International Department of Beijing No.4 High School
Ivy Schools
Keystone Academy
Maple International Academy
MIK International Kindergarten
National Institute of Technology
Peide School
Springboard International Bilingual School
Tsing Hua International School
Yew Chung International School of Beijing
Yew Wah Infant and Toddler Education Center
Yew Wah International Education School