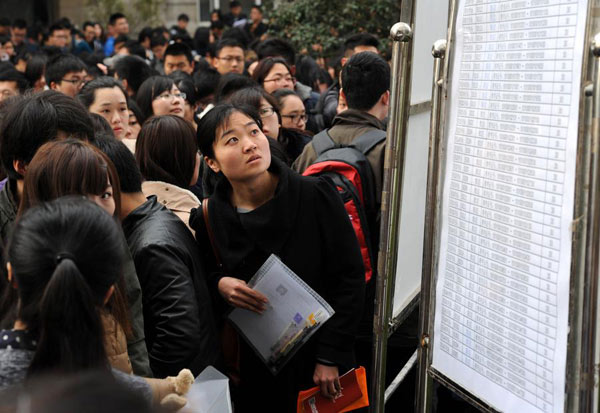 A candidate examines the test schedule for the local civil servant examination in Jiangsu province, March 23, 2014. [Photo/Xinhua]
Ministry confirms first raise for civil servants since 2006, promises more regular adjustments
China has raised salaries for public employees sharply this year, after they had been frozen for years and after government officials had been leaving their jobs because of low pay.
It is the first time since 2006 that civil servants have received a salary increase.
The Ministry of Human Resources and Social Security said on Monday that the three notices issued on Jan 12 cover all civil servants, from village level to national level.
According to the plan, all civil servants will get a raise. The basic monthly salary for national-level officials, who are the seven members of the Standing Committee of the Political Bureau of the CPC Central Committee, including President Xi Jinping, will increase from the current 7,020 yuan ($1,130) to 11,385 yuan, a raise of about 60 percent.
Salaries for the lowest-level civil servants will increase to 1,320 yuan from the current 630 yuan.
The basic salary is only one part of a Chinese civil servant's monthly salary. Allowances are also given according to duties and work positions.
The increase will be retroactive to Oct 1, with civil servants receiving a one-off payment for the difference in wages for the fourth quarter of last year.
The notices also said that, in the future, salaries for civil servants will be adjusted every year or every two years.
A Beijing civil servant surnamed Peng, who received about 4,000 yuan a month after tax before the increase, said that is far from enough to live on in the capital.
"My husband and I pay nearly 7,000 yuan a month on an apartment loan and spend about 3,000 yuan on food," Peng said, adding that her husband pays the majority of the household expenses.
"He earns four times more than I. I only spend my salary as pocket money," the 29-year-old said, adding that many of her colleagues had quit because of the low salary.
Although she has not yet received wages since the pay raise, Peng has excitedly calculated her new salary.
"I will have about an extra 1,000 yuan per month, enough for a trip abroad if I save it for a year," she said.
Yang Yansui, director-general of Tsinghua University's Employment and Social Security Research Center, said the increase is a big move that aims to establish a reasonable income system for all of society.
"The adjustment is not only about the salary increase, but aims to establish a scientific wage system, which can measure employees' duties and workload no matter whether they work for the government or a corporation," she said, adding that businesses have begun to adopt a unified system to measure employee's contributions, as is the international norm.
The State Council also released a plan to unify the pension system for both private employees and government employees.
Yang said pension system reform is part of a major plan to reach a fair and transparent income system.
luowangshu@chinadaily.com.cn