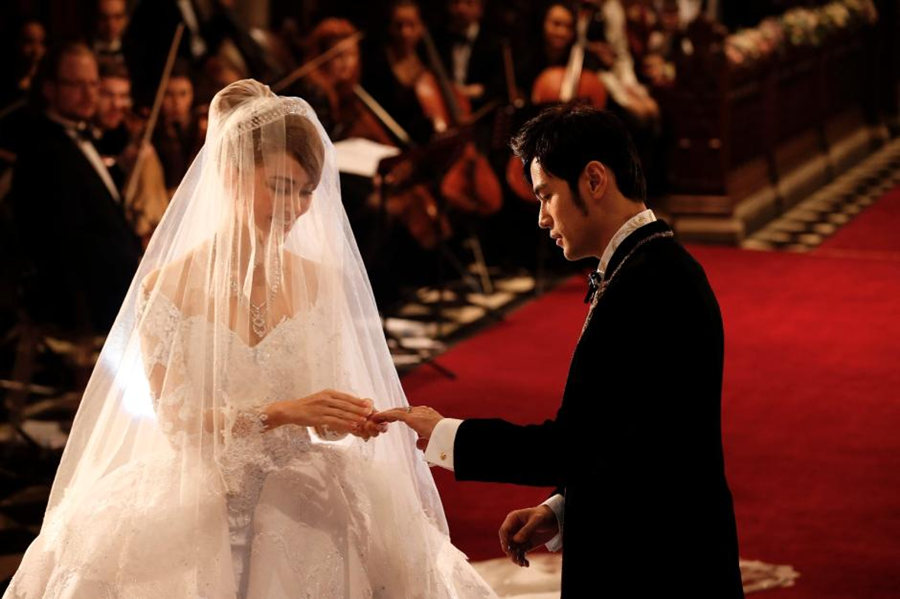 Singer Jay Chou and model Hannah Quinlivan held wedding ceremony at the Selby Abbey in Yorkshire, Britain, Jan 18, 2015. [Photo/weibo.com]
Liu Jiao and a bunch of her music-loving peers were "heartbroken" at the news that Chinese pop icon Jay Chou got married in Britain on Saturday.
"Our Prince Charming finally became the husband of another woman," Liu, a 29-year-old Beijing resident, said jokingly.
Chou married Hannah Quinlivan, a 21-year-old actress and model from Taiwan, at a Christian church in Yorkshire. The two had been romantically involved for four years.
Unexpectedly for Chou's fans, the ceremony, which was to be held on his 36th birthday-Jan 18-was moved up one day.
"As his fans, we had known Jay would get married one day in 2015, but we didn't expect it to be so soon," Liu said. "It's a bittersweet experience."
Chou, who has been a well-known pop singer for 15 years, combines Chinese and Western musical elements in his songs and has influenced great numbers of Chinese people born in the 1980s and 1990s.
For his first album, Jay, released in 2000, he wrote all the music for the 10 songs and the lyrics for two of them. The album was a hit in Taiwan and on the Chinese mainland.
He has since released almost an album each year, including Fantasy in 2001, November's Chopin in 2005, On The Run in 2007, all of them loved by fans.
Liu remembers how she felt when she first heard the album Jay during a music class as a middle school student.
"My classmates and I were all fascinated by the lyrics and tunes from an unknown singer," Liu recalled. "We couldn't help falling in love with his songs-they were so different from any pop songs we had heard before."
Liu said that the love has lasted and that Chou's songs have been an important part of her life since she was 15.
"Over the years, whenever Jay brought out a new album, I would buy it unconditionally. I can sing any one of his songs, even the ones with complicated lyrics," she said.
The pop star's wedding is a hot topic among fans.
By Sunday afternoon, a post that "Jay Chou got married" dominated weibo, China's Twitter-like service, and had been viewed more than 400 million times and triggered nearly 1 million discussions. Many fans shared their experiences of listening to his music and offered him their best wishes.
"Nothing matters as long as you are happy," one fan posted online.