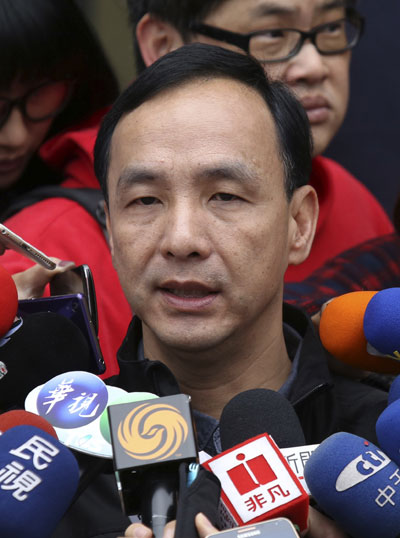 New Taipei City Mayor Eric Chu talks to reporters after casting his ballot at a polling station during the ruling Nationalist Kuomintang Party (KMT) formal chairman election in New Taipei City January 17, 2015.  [Photo/Agencies]
BEIJING -- Xi Jinping, general secretary of the Communist Party of China (CPC) Central Committee, has congratulated Eric Chu for being elected as the chairman of Taiwan's ruling Kuomintang (KMT) on Saturday.
Taiwan's New Taipei City Mayor Eric Chu was elected chairman of the ruling Kuomintang (KMT) in an uncontested election on Saturday.
About 56 percent of eligible voters turned out to cast their ballots and Chu won 196,065 valid votes, or 99.61 percent of the votes, according to the KMT Central Committee.
Chu will take office as chairman next Monday.
The former KMT leader Ma Ying-jeou stepped down as chairman on Dec. 3, handing over the reins to the party's first vice chairman Wu Den-yih.
According to the party's charter, the interim chief is tasked with organizing a new election for a replacement to serve out the predecessor's remaining term within three months of a chairmanship vacancy.