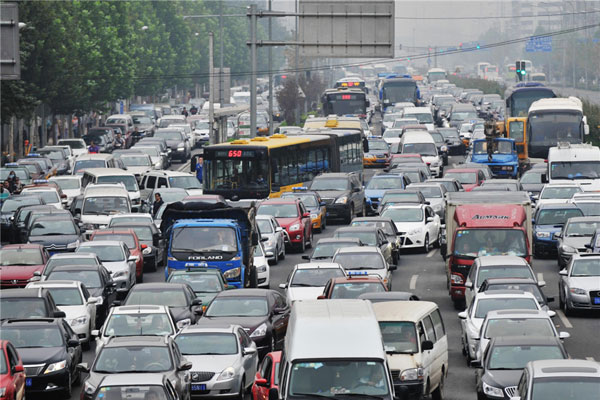 Vehicles inch along in traffic congestion at a section of the Third Ring Road in Beijing, Sept 20, 2010. [Photo/CFP]
"After four years, I started asking myself, 'Is life in Beijing what I want?'" said Zhao Xuan, a 33-year-old housewife living in Yanjiao, a town 30 kilometers to the east of China's capital.
Ambitious and aspiring for a fast-paced life, Zhao quit her job in Shijiazhuang, the capital of Hebei province, in 2010 and landed a new one in Beijing.
"I was so excited watching crowds of people on the subway platform, thinking my dream was coming true," Zhao said emotionally when recalling the first time when she took the subway to her office in Xidan, a commercial district in Beijing.
"But I did not notice the struggle behind the faces."
Road to capital
As freshness faded away, life started showing its harsh side.
"You could not imagine how many people could be crammed into a bus," Zhao said about her experience on the notoriously crowded buses from Yanjiao to Beijing. "Sometimes, anxious people who failed to get on would prevent the door from closing, and brawls happen."
Things were no better off when she drove to work.
Without a Beijing license, Zhao's car isn't allowed to enter the capital during morning rush hour. Instead, she has to park her car at the east Fifth Ring Road where she then transfers to the subway. The combined journey takes an average of two hours, including the routine traffic jams.
"Sometimes, I was driven so crazy by the congestion that I wanted to leave my car in the middle of the road."
After an exhausting day, Zhao returns home from work at around 8 pm.
"I was so tired, I just want to go to bed after dinner," she said.
Zhao's life is typical of inter-city commuters between Yanjiao and Beiing. The city has been dubbed the "city of beds".