Changing prospects
The implementation of the reform and opening-up policy in 1978 saw a strengthening of international ties in fields such as politics, trade, culture and education, all of which fueled the development of Arabic as a major and changed the employment prospects for graduates.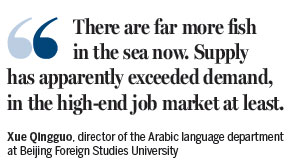 Xue Qingguo, director of the Arabic language department at BFSU, said that while government and higher education institutes remain the top choices for the school's graduates, jobs in State-owned enterprises that send staff to work in Arab countries have also gained in popularity.
The school's Arabic course now recruits about 50 undergraduates, 12 master's students and a couple of doctoral candidates every year.
"Many of our graduates have landed high-end jobs related to Arab countries. Many are active in State-owned enterprises, external publicity organizations, and the ministries of foreign affairs, commerce and culture," said Xue, who has taught at BFSU since he graduated from the university in the 1980s. "However, from a national perspective, I'm not too optimistic about the employment prospects for Arabic language majors."
Ma, from Zhejiang Yuexiu University of Foreign Languages, underscored Xue's concerns, pointing out that about 50 universities in China now provide a major in Arabic language and culture, and that most of the courses were established during the past decade.
"In 2014 alone, we saw Arabic courses established at nine universities, including Shandong Normal University and Linyi University, also in Shandong province, and several vocational colleges," he said. The major now attracts 2,000 to 3,000 students every year, but not all of them will find a prestigious job.
Echoing Ma's sentiments, Xue said: "There are far more fish in the sea now. Supply has apparently exceeded demand, in the high-end job market at least. That's especially true for female graduates."
It's certainly true for Liu Bing, who gained a bachelor's in Arabic from Beijing International Studies University in 2012.
"Women are especially disadvantaged in posts that require a period of time working as an expat, because some things are taboo for women in Islamic Arabic countries. For example, in some Arabic countries, women are not allowed to work, while in others they can only leave the house if they're chaperoned by a male family member," the 25-year-old said.
She said the number of jobs with established domestic organizations, such as the International Department of the Chinese Communist Party's Central Committee, the ministries of culture and foreign affairs, and Central China Television, is extremely limited, usually singledigits, but every post is hotly contested by the swelling number of graduates in Arabic.
"You can imagine the competition," said Liu, who works for China Telecom Corp, handling affairs related to Arab countries.
Despite the apparent glut of graduates, Ma, from the university in Zhejiang, refused to lose hope about their employment prospects. He said the number of students enrolling to study Arabic at his university is rising every year, from 34 in 2008 to 98 in 2014, and the school plans to maintain that progression.
"As a newly founded major, we don't want our graduates to compete with their peers from the eight traditional universities to get jobs in ministries or other high-level organizations," he said. "Instead, we suggest alternatives, and help them find niches in the job market, such as private business involving Arab countries," he said.
Private enterprise may indeed be the graduates' salvation. Official statistics show that the value of trade between China and countries in the Middle East soared from $600 million in 1978 to $274 billion in 2011, an average annual growth rate of 19.7 percent.
"That means our graduates will almost certainly find places in the field," Ma said.
Contact the writer at zhaoxinying@chinadaily.com.cn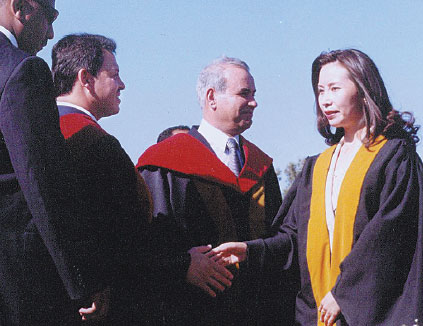 A Chinese student receives a doctorate in Arabic language and literature from King Abdullah II of Jordan (second from the left) in 2001. Provided to China Daily