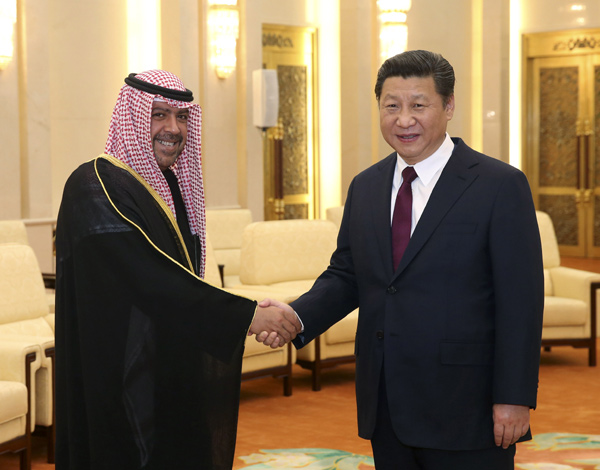 Chinese President Xi Jinping (R) meets with Sheikh Ahmad Al-Fahad Al-Sabah, president of the Association of National Olympic Committees (ANOC) and president of the Olympic Council of Asia (OCA), in Beijing, China, Jan 14, 2015. [Photo/Xinhua]
BEIJING - Chinese President Xi Jinping met with Sheik Ahmad al-Fahad al-Sabah, president of the Association of National Olympic Committees (ANOC) and chief of the Olympic Council of Asia, in Beijing on Wednesday.
Xi told Sheik Ahmad that the Chinese government attached "great importance" to Beijing and Zhangjiakou's joint bid for the 2022 Winter Olympic Games.
"It will inspire over 300 million Chinese to participate in winter sports if we win, which will contribute greatly to the development of international Olympic cause," Xi said.
Sheikh Ahmad wished Beijing and Zhangjiakou the best of luck in the process.
The International Olympic Committee (IOC) will vote for the host city of the 2022 Winter Olympics on July 31, 2015, in Kuala Lumpur, Malaysia.
Xi said the ANOC, as a coordinator of 205 national committees around the world, had played a positive role in strengthening solidarity, cementing cooperation with the IOC, and pushing forward the international Olympic movement.
Praising the ANOC's contribution to boosting sports development in China, Xi said the Chinese government placed great emphasis on sports and acknowledged its role in social development.
The Beijing Olympic Games and the Nanjing Youth Olympic Games further ignited national passion for the Olympics, he said.
Calling China an important cooperation partner of the ANOC, Sheikh Ahmad said the country had demonstrated its capability to hold large-scale international sport events.
The Beijing Olympics and the Nanjing Youth Olympics were the pride of China and Asia, he said.