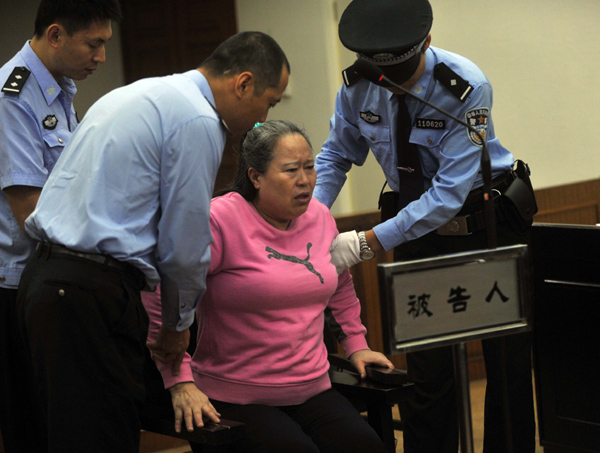 Ding Yuxin, a Shanxi businesswoman whose original name is Ding Shumiao, appears in a Beijing court in September 2013. She was sentenced in December to 20 years in prison for paying bribes to the exrailways minister to get business illegally. [Photo/Xinhua]
As more of the country's billionaires come under investigation, collusion between business people and government officials seeking huge profits from mineral resources is being revealed as a common way to make a killing.
Zhang Xinming, once said to be the richest coal baron in Shanxi province, has been held for investigation and most of his assets have been frozen, according to Beijing-based Caijing magazine.
Zhang, former chairman of the Shanxi Jinye Coal & Coking Group, became a controversial figure after a majority of the company was bought by State-owned China Resources, whose chairman Song Lin and top executives are being investigated for corruption and wrongdoing in the acquisition that led to the loss of billions of yuan of State-owned assets.
The group was co-founded by Zhang and two others in 2003. Qiu Xiaohong, then chief financial executive and now an inmate, told Caijing that the two co-founders did not invest any money but were each given a 20 percent interest because they acted as conduits between the company and two senior officials in Shanxi. They sold their combined 40 percent to a businessman named Yan Qi in June 2005, each reaping 10 million yuan ($1.6 million).
Qiu said Yan bought the stakes because he wanted access to the senior officials regarding a reconstruction project in the heart of Taiyuan, capital of the province. Yan won the bid for the project.
China Resources Power, a subsidiary of China Resources, was said to have paid 7.9 billion yuan for 80 percent of a package of coal mines owned by Shanxi Jinye, which was valued by another company at no more than half that a few months earlier.
Zhang earned 6.9 billion yuan from the sale, but auditors are investigating the transaction, which is likely to be reversed. How to retrieve the huge sum of money from Zhang remains in question.
Of the 31 provincial-level administrative districts in China, Shanxi has been hit hardest by graft cases. A third of the members of Shanxi's top decision-making body and more than 40 other officials in the province have been investigated for corruption since the nationwide anti-graft campaign began in late 2012.
As auditors probe the coal mines acquisition, the case is likely to bring down more senior officials, Caijing reported.
In Yunnan, a province rich in aluminum, lead, zinc and tin mines, investigations have targeted officials in positions of handling such resources.
Yan Jirong, a professor at Peking University's School of Government, said the cases revealed the many opportunities for corruption in the developing state resources.
"When local officials wield power in distributing national resources, they are more prone to corruption. Design of a mechanism to curb their power should be considered to ensure the effectiveness of the anti-graft campaign," Yan said.