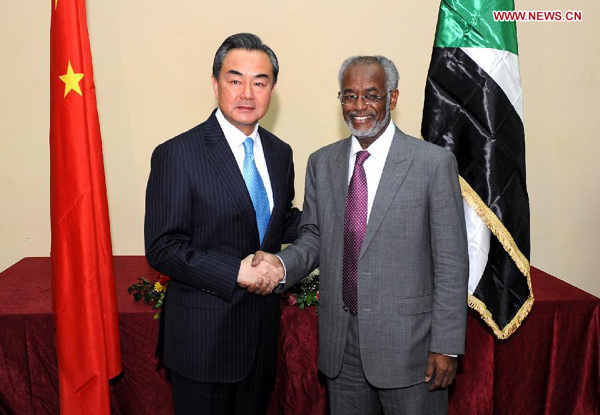 Chinese Foreign Minister Wang Yi (L) meets with his Sudanese counterpart Ali Karti in Khartoum, capital of Sudan, Jan 11, 2015. [Photo/Xinhua]
KHARTOUM - China is mediating between Sudan and South Sudan not for its own interests but acting on the responsibilities and obligations of a responsible world power, Foreign Minister Wang Yi said on Sunday.
Wang, who was in Sudan on what he described a visit of support, said achieving stability in South Sudan at an earlier date serves the interest of the people of South Sudan and the common wishes of Sudan and other countries in the region as well as those of China and the world community as a whole.
The Chinese minister made the remarks to reporters after a meeting with his Sudanese counterpart, Ali Karti.
China stands ready to work with countries in the region in staunch support of mediation efforts for an early return to peace in South Sudan, Wang said.
He reiterated China's support for Sudanese efforts to safeguard its sovereignty, independence and territorial integrity, to overcome its temporary economic difficulties, as well as its endeavors to maintain regional peace and stability.
Wang said China welcomes Sudan's national dialogue initiated by President Omar al-Bashir and would like to see a smooth conclusion of presidential and parliamentary elections in the country.
He said wars and conflicts hurt the oil industry, an area China, Sudan and South Sudan have had sound cooperation, and the people of Sudan and South Sudan are the first to be impacted, and that is definitely a scenario that China does not want to see.
As a friend of both Sudan and South Sudan, Wang said, China will continue its mediation efforts.
During his meeting with Karti, his Sudanese counterpart, Wang said that there has been no change whatsoever in China's policy of developing comprehensive, friendly relations with Sudan, and that China seeks to properly address problems arising in bilateral cooperation through friendly coordination and sincere collaboration, so as to cement traditional friendship and boost common interest.
China would like to maintain its traditional cooperation with Sudan in such fields as oil and infrastructure, and explore new modes of collaboration, taking agriculture, processing and manufacturing as new areas for pragmatic cooperation in the future, Wang said.
China encourage its enterprises to invest in Sudan, Wang said, expressing the belief that the Sudanese government will take effective measures to provide a more favorable investment environment and ensure the safety and security of Chinese companies and staffs.
Karti, for his part, expressed appreciation and gratitude for the precious help extended by China during Sudan's time difficulty, pledging to support Beijing unwaveringly on key issues involving China's core interests.
He said the Sudanese government hopes to expand areas of mutually beneficial cooperation and attaches importance to the safety and security of Chinese citizens and entities in Sudan.
Sudan would like to work with China in enhancing regional peace and security and push the bilateral relationship to a new high, he added.
The Chinese foreign minister arrived here from Kenya on Sunday.
After Sudan, he will visit Cameroon, Equatorial Guinea and the Democratic Republic of Congo.