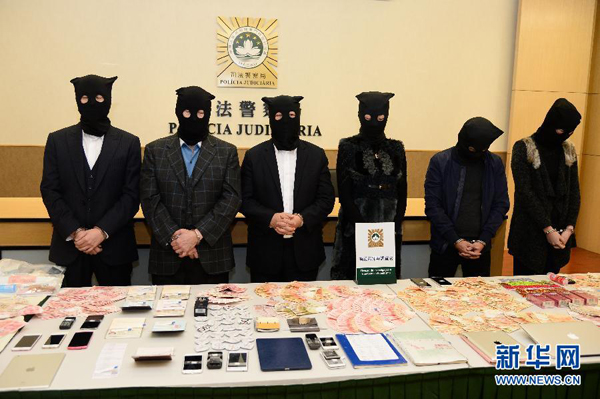 The six suspects arrested in a prostitution smuggling ring stand at a news briefing in Macao on Jan 11, 2014. [Photo/Xinhua]
A nephew of Macao's "King of Gambling" was the major suspect held when police busted one of the city's largest prostitution smuggling rings on Saturday, Chinanews.com reported Monday.
Alan Ho, nephew of billionaire Stanley Ho, and five other suspects were arrested after police raided Hotel Lisboa.
Stanley Ho, also known as Ho Hung Sun, is nicknamed "King of Gambling" having once had a government granted monopoly of the industry in Macao. He gave up nearly all of his stake in casinos to family members in 2011.
Alan Ho, 68, is managing director of Hotel Lisboa Macao and the other suspects were senior managers of the hotel, police said.
Police said 96 suspected prostitutes, aged between 20 and 27, were held for investigation and 30 of them were found to have entered Macao illegally. All but one are from the Chinese mainland and the other is from Vietnam, according to Chinanews.com.
They were forced to pay monthly "protection fees" to operate in the hotel.
The ring started in 2013 and police estimate it has gained more than $50 million in the past two years.