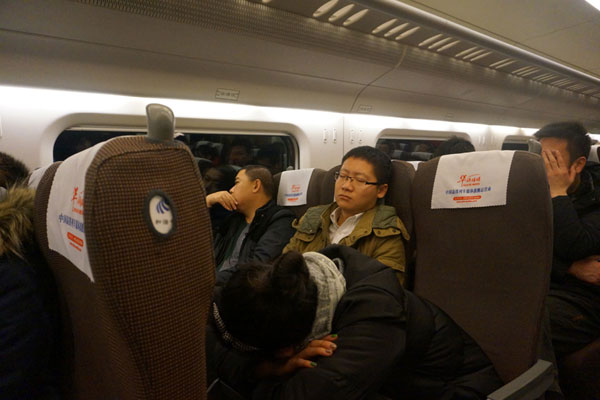 Some passengers fell asleep on the train after it left Yanjiao at 6:46 am. [Photo by Zhang Xiang/chinadaily.com.cn] More photos>>
Commuters living in Yanjiao, a town about 35 km east to Beijing, now have more options to go to work in Beijing after an intercity bullet train started operating on Monday.
Train D9022 left Yanjiao at 6:46 am and arrived at Beijing Station at 7:17 am on Monday. All the 706 tickets of the train were sold out, a railway official said.
Zhou Hongyu, one of the first passengers on the maiden trip of Yanjiao-Beijing bullet train, said that the new train almost halved the daily two-hour-long journey to her office.
"I used to take bus before transferring to subway to my office. The bus is extremely crowded and it's always a struggle to get on it."
For some others, punctuality is the top concern.
Peng, 37 year old, said ideally it takes an hour to reach his office. But that is not often the case on the congested roads of Beijing.
"Sometimes the commuting time can stretch to two hours or more. Now the bullet train can take me to Beijing in half an hour," said Peng.
But the timing and cost of the train deter some commuters.
"A second-class seat on the bullet train sells at 10 yuan ($1.6), which will nearly double the cost of bus journey," veteran commuter Wu Zejian told reporter ahead of the operation of Yanjiao-Beijing bullet train. "Besides, my home is quite a distance away from the railway station, so it is not a bargain for me to take the train," added Wu.
"Although the train is punctual and fast, but I can only take the morning train because the evening train leaves Beijing at 5:50 pm and I will not be able to catch it. I hope more shuttle services will be added between Beijing and Yanjiao in the future," said Zhou Hongyu.
Whether Zhou's wish will be fulfilled is in doubt because of limited transport capacity on the line, according to the head of Yanjiao railway station.
Yanjiao, which literally means the suburb of Beijing, is home to over half a million residents, many of them moved to the small town in recent years after the house prices in Beijing skyrocketed.
Despite the low house price and rents, commuters have to take the cost of excruciating journey to their work place in Beijing. After a long day on the road, they have no extra energy to do anything other than go to bed, thus earning the town the name "city of beds".