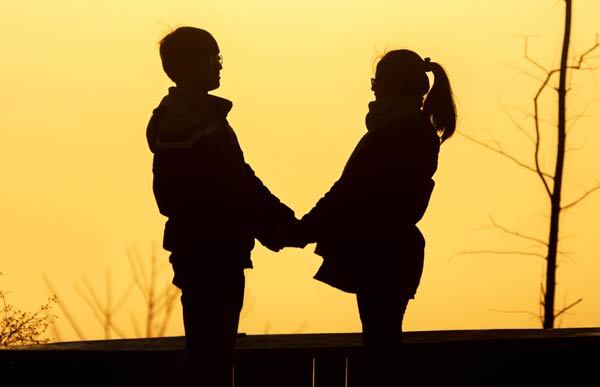 In 2013, the gender ratio at birth in China stood at 117.6 males for every 100 females. The disparity represents a golden business opportunity for so-called pickup artists, who are increasingly moving away from teaching seduction techniques at workshops and have started offering one-on-one relationship counseling. [Photo/Xinhua]
A wave of loneliness among young middle-class men saw the emergence of 'pickup artists' who teach lovelorn bachelors a variety of techniques to attract women. Now, the phenomenon may be on the wane, as Xu Wei reports.
Ze Xin (not his real name) felt as though he'd been brainwashed after attending a five-day workshop held by a number of "pickup artists". At the time, Ze was trying to heal the wounds left by a failed relationship during which he "did virtually everything I could to make the girl happy", but was still ditched.
"It was about a total overhaul of your values, your understanding of love. I felt as though I had been utterly stupid in the past," Ze said, adding that the thing he disliked most about the course was the requirement to post selfies of himself with pretty girls on social media.
"It's a message to the ladies you're targeting; to show that you have no shortage of female admirers. There has to be competition," he said. "If there are no women in your life, the chances are that there are no women who like you. That's human nature."
Ze recalled being stunned as he watched his tutor trying to pick up a young woman during a shopping trip for clothes. "He seemed to approach girls simply because they looked good at a first glance. It was such a casual thing," he said.
The 7,000 yuan ($1,126) workshop opened up a new world: "I thought there would be no future without my ex-girlfriend, but I was wrong. It was really about a shortage of choices."
"Pickup artists", men who specialize in tricks and techniques to attract women, originated in the United States in the middle of the last century. Their emergence prompted a number of books, the most influential being The Game: Penetrating the Secret Society of Pickup Artists by Neil Strauss.
In a famous essay, The dating mind: Evolutionary psychology and the emerging science of human courtship, Nathan Oesch of the Department of Experimental Psychology at Oxford University, defined the PUA community as "consisting broadly of heterosexual men who market various tactics, techniques, and methods to meet, date, and ultimately seduce women".
In China the practice is generally regarded as light-hearted fun, but it's become a focus of disquiet in Western countries where PUAs, as they are known, have been accused of promoting and legitimizing violence against women.
In November, Julien Blanc, a PUA from the US, made global headlines when he was banned from entering the United Kingdom to deliver a series of seminars after more than 150,000 people signed an online petition urging the UK government to declare him persona non grata, and follow Australia in refusing to grant him a visa.