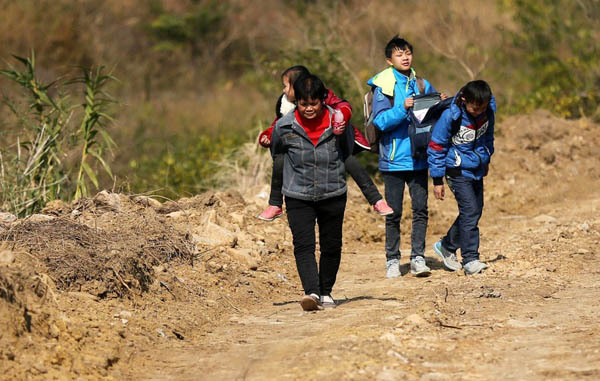 Huang Linxiu carries her granddaughter on her back on the way home in Yong'an village, Guangxi Zhuang Autonomous Region,on Jan 5, 2014. They have to walk for three hours to get home from school. [Photo/CFP]
The Phoenix School, located in Yong'an, a remote and mountainous village in Guilin, Guangxi Zhuang Autonomous Region, is the only local elementary school where students from Yong'an and neighboring villages can study. Many children who live in dorms at the school have to be accompanied by their parents or grandparents through the six-year education as they are too young to take care of themselves.
Huang Linxiu, 61, has been accompanying her three grandchildren at the Phoenix School for seven years. Huang admitted that life is rather hard for her as her husband died last year and all of her sons and daughters are migrant workers at cities. But she said it's worth her efforts and commitment because she believes knowledge would be able to change the fate of her whole family in the future.