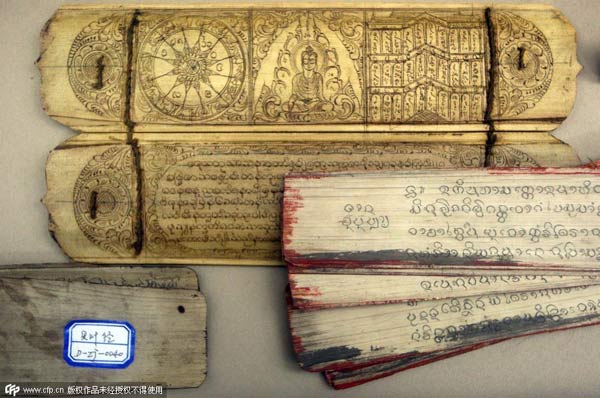 Well-preserved palm-leaf manuscripts of Buddhist sutras in Xishuangbanna, Yunnan province, Aug 15, 2010.[Photo/CFP]
LHASA -- Many of Southwest China's Tibet autonomous region's ancient texts are being digitalized, in a bid to better protect them while making them globally accessible.
Currently, staff are working toward the complete digitalization of the Tibet Library's catalog, which includes ancient books in Lhasa and other rare national ancient texts as well as 150 e-books, said Numu, curator of the Tibet Library.
"Next, we will define the standards for digitalization of ancient Tibetan texts and gradually provide a full service for the digitalization of Tibetan documents for domestic and overseas readers," he said.
China has more than one million ancient Tibetan books, two-thirds of which are in Tibet. Currently, the region has finished surveys of ancient books in Ali, Nagqu and Nyingchi.
More than 150 Tibetan classics are included on the state list of precious ancient books.
The digitalization project includes religious texts, historical archives and medical books.
More than 800 books on Tibetan medicine have been digitalized and can now be found online, according to the Tibet Medical College. The online search system will soon be accessible to the public.
At the Tibet ancient books protection center under the Tibet Library, workers, on average, complete the digitalization of ten books a day.
"The most important aspect of these ancient texts is their content. Frequent use will damage them, but digitalization will address the problem," said Benba Cering, with the Tibet ancient books protection center.
These digitalized texts will be uploaded to the Internet or be made accessible in electronic reading rooms, he said.
Tibet University and the China Tibetology Research Center have signed a cooperation agreement to jointly set up a Tibetan literature resource center to further boost the protection of ancient texts and writings.