Xi proposes a four-year cooperation plan as relations are upgraded to strategic partnership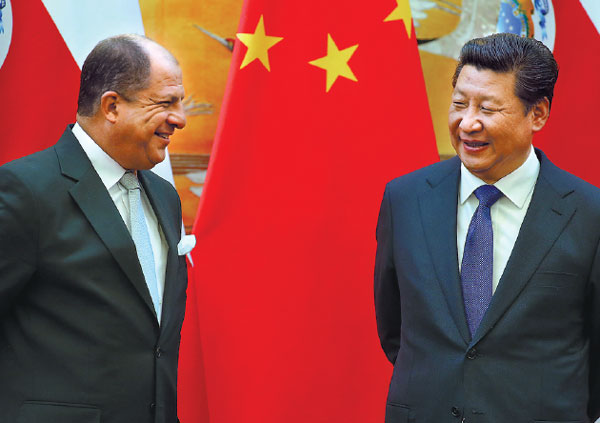 President Xi Jinping talks with Costa Rican President Luis Guillermo Solis at the Great Hall of the People in Beijing on Tuesday. The leaders witnessed the signing of a series of agreements between the countries. Wu Zhiyi / China Daily
The young ties between China and Costa Rica were strengthened on Tuesday as the two countries sealed three agreements in Beijing.
The agreements, signed after talks between President Xi Jinping and Costa Rican President Luis Guillermo Solis, dealt with economic and technological cooperation, food inspection and quarantine and the creation of a joint special economic zone.
Costa Rica is the only Central American country with which China has diplomatic ties.
Xi called for both sides to formulate a 2016-20 cooperation plan, and to push forward cooperation in infrastructure, agriculture, digital television, mobile technology and clean energy.
He urged Costa Rica to simplify visa procedures for Chinese citizens, saying China is willing to support the nation's Chinese language teaching and tourism.
Solis told Xi that Costa Rica is looking forward to deepening cooperation with China in technology, education, investment and infrastructure.
The country welcomes more Chinese teachers, scientific researchers, artists and sports coaches, he said.
Solis started his weeklong visit to China on Sunday, kicking off his first state visit to China since he took office in May 2014.
The visit's priority is to "drum up interest on the issue of foreign direct investment and economic collaboration", Costa Rican media reported.
That was highlighted by a slew of meetings between Solis and Chinese businessmen in Beijing. On Friday, he plans to visit Tianjin.
"One of the most significant relations one can establish today is established with China," Solis said in a speech at Renmin University of China on Tuesday morning.
He was granted an honorary doctorate in law by the university.
On Thursday morning, Xi and Solis, among others, will participate in the opening ceremony of the first ministerial forum between China and the Community of Latin American and Caribbean States in Beijing.
Costa Rica currently holds the 33-member group's rotating chairmanship.
He Shuangrong, an expert in Latin American studies at the Chinese Academy of Social Sciences, said China's investment and technologies come to Costa Rica, and to Latin American countries generally, at critical juncture, as the continent has seen fewer investors because of the global financial crisis in recent years.
The rapid development of the China-Costa Rica relationship could also encourage more Central American countries to foster ties with China, He said.
China is Costa Rica's second-largest trading partner, just behind the United States. Two-way trade rose from $4.7 billion in 2011, when a free trade treaty took effect, to $6.2 billion in 2012.
Solis said that both sides should "not look at only the economy", even though "that is Latin America's interest to China".
China's perspective on Latin America should include other aspects of its rich social life.
Contact the writers at zhaoshengnan@chinadaily.com.cn and zhangyuchen@chinadaily.com.cn