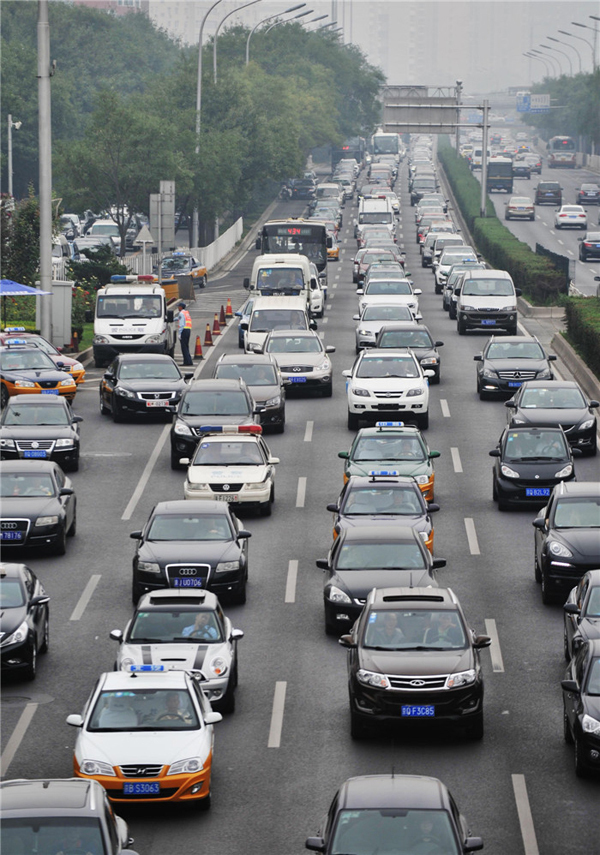 Tightly packed vehicles creep along streets near Liujiayao Bridge, Third Ring Road South of Beijing, on Sept 22, 2014. Beijing is among the cities that have car purchase restrictions. [Photo/Xinhua]
Central government officials no longer enjoy government-provided cars
A new guideline to rein in vehicle expenses for the central government is causing many officials to rethink their commutes.
Instead of having cars provided by the government, officials at bureau level will receive monthly traffic subsidies of 1,300 yuan ($209), while those at director level and section level will get 800 yuan and 500 yuan a month, according to the guideline that took effect at the beginning of the year.
With the subsidy, an official at bureau level could travel 13 times by taxi from Beijing Capital International Airport to Guomao, one of Beijing's busiest areas.
"I knew about the guideline and heard that the traffic subsidies had been enforced," said an official from a central government department that was part of a pilot project. "Maybe the money will be given out gradually. I haven't received any so far."
The official, who declined to be named, told China Daily that all vehicles in her department paid for with public funds were taken back about two months ago, "and we were asked to think of ways to solve the traffic problem," said the 37-year-old, who goes to work by bus.
"I will receive 800 yuan a month under the guideline," she said, adding that public funds have been used strictly since the guideline came into effect.
The measures will later be extended to local administrations.
According to another official in Hegang, Heilongjiang province, the plan for traffic subsidies in his working area may be issued by the end of this year.
"More time is needed to extend the reform in local government departments, because the traffic conditions in each area are different," said the official, who declined to be named.