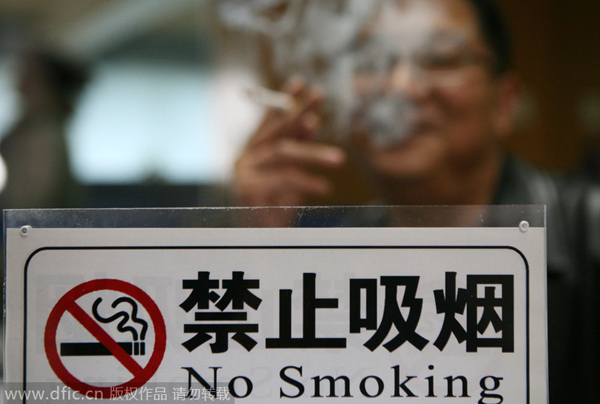 A man smokes a cigarette near a no-smoking sign in Huai'an, Jiangsu province, on Nov 25, 2014.[Photo/IC]
Crop was the last agricultural product whose procurement costs were government-regulated
China has announced that procurement prices for tobacco leaves will now be set by supply and demand, in a country where one-third of the world's cigarettes are consumed but where sales of high-end cigarettes have dropped during the recent corruption crackdown.
The National Development and Reform Commission and China Tobacco Co released a notice to relax procurement prices on more than 160 types of tobacco leaves, which had been the last agricultural product under pricing regulation in China.
With the action, the prices of all of China's agricultural products have been liberalized since the country began relaxing procurement-pricing regulation on most agricultural products, including pork, cotton and grain, over the past three decades.
Tobacco companies are now allowed to independently set procurement prices on tobacco leaves based on companies' revenues and demands, instead of purchasing the leaves at prices set by the government, according to a government statement.
"Tobacco companies have formed long-term common interests with tobacco farmers, and it will be more reasonable to allow them to set prices," said Wang Shengmin, an official of the NDRC's price department.
Annual production of leaf tobacco in China is around 2.5 million metric tons per year, with a total value of less than 100 billion yuan ($16.1 billion), he said.
"Leaf tobacco only accounts for a very small portion of China's agricultural market, and the relaxation won't cause much fluctuation of cigarette prices, as the cost of tobacco leaves usually accounts for about 5 to 10 percent of the final products," said Wang.
China's corruption crackdown has also greatly affected the consumption of expensive cigarettes and liquors, industrial analysts said.
Li Guoxiang, a researcher with the Chinese Academy of Social Sciences, said the government-dominated pricing system led to high inventories and overcapacity in leaf tobacco output.
While the market mechanism will help establish reasonable prices, observers note that the tobacco companies need to build a bidding mechanism or set up regular order-placing meetings with tobacco farmers to keep the average price of leaf tobacco stable and protect the interests of farmers, most of whom live in poor areas.
While China has lifted controls on agricultural products, the government has also adopted supplementary methods such as setting minimum purchasing prices for key crops such as rice and wheat and adopting temporary purchase and storage for products such as corn and rapeseed to protect the interests of farmers.