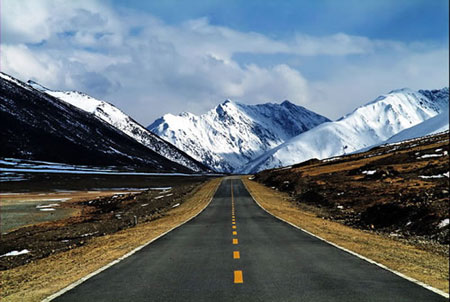 Sichuan-Tibet Highway. The Year 2014 marks the 60th anniversary of the completion of the Qinghai-Tibet Highway and Sichuan-Tibet Highway.
In December 1954, the Qinghai-Tibet and Sichuan-Tibet highways were officially put into service, ending Tibet's reliance on men, horses and ropes to transport goods. More than 3,000 people died during their construction. The opening of the two highways has played an important role in Tibetan economic development.
Sichuan-Tibet Highway
Sichuan-Tibet Highway, originally called the Kangding-Tibet Highway, is a high-elevation road starting from Chengdu, capital of Sichuan province, on the east and ending at Lahsa, capital of Tibet autonomous region, on the west. The highway has two routes. South Line has a length of 2,115 kilometers, while North Line is 2,414 kilometers long.
Construction of Sichuan-Tibet Highway started in April 1950, when the road builders cleaved mountains and controlled water, and finally opened for traffic on December 25, 1954, together with Qinghai-Tibet Highway.
With high elevation and harsh geographical conditions, the building of Sichuan-Tibet Highway was an unprecedented challenge to Tibet's highway construction. The Ya'an-Lhasa section covering a total length of 2,255 kilometers was completed on a high mountain range.
Before Sichuan-Tibet Highway and Qinghai-Tibet Highway opened to traffic, it took six months to a year for human or livestock to cover a round trip trudging through from Lhasa to Chengdu, or Xining, Qinghai province; nowadays, it only takes one month by bus.
The highway is considered the most beautiful yet most dangerous road in China for travelers who drive to Tibet.
Qinghai-Tibet Highway
Starting from Xining, capital of Qinghai province, the Qinghai-Tibet Highway stretches 1,947 km (about 1,210 miles) into Tibet with an average elevation of above 4,000 meters. Winding along the Kunlun Mountain, Tanggula Mountain, Tuotuo River, and vast grassland, the Qinghai-Tibet Highway amazes travelers with its appealing landscape along the plateau.
Being the world's longest asphalt road and at the highest altitude, it reaches its top point at the 5,231-meter-high Tanggula Pass. About 980 km of the road is more than 4,500 meters above sea level, and 630 km of its length is bedded on permafrost, soil that is permanently below the freezing point.
"Freight transportation still relies on the road. More than 80 percent of goods still go via the highway, while people mostly take the train," according to Sonam, director of the Qinghai-Tibet Highway Management Bureau.
"Since opening to traffic in 1954, the central government has spent nearly 3 billion yuan ($362 million) on three major overhauls. It was asphalted in 1985."