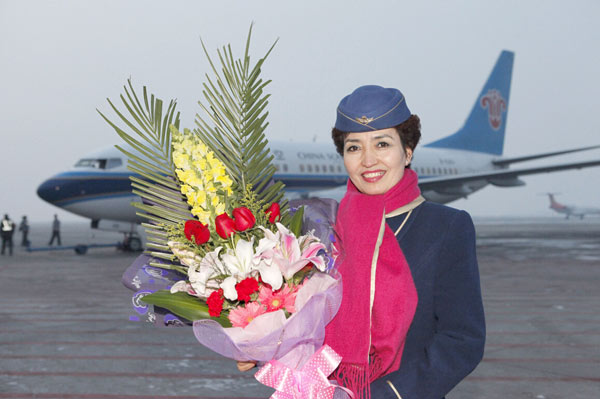 Maria Wupur
During her 32-year career as a flight attendant, Maria Wupur flashed the standard "six-tooth" smile to passengers more times than she can remember.
In 1979, Xinjiang Airlines Co chose the 54-year-old as the first Uygur cabin crew member, three years after she served in the air force of People's Liberation Army.
"The selection procedure was very strict, the same as for the pilots, and I was the only candidate selected," she said.
When the then-19-year-old started work, wearing her military uniform shorn of its badges, she never imagined it would be such a tough and long job.
Initially, she worked on prop-driven planes, which didn't have the range to fly outside the region, and were so slow that the flight from Urumqi to Kashgar took five to six hours.
The planes were so small that only one attendant was need, and Wuper did everything, including cleaning, changing the seat covers, and checking supplies.
"The planes jumped sharply in the airflow. I wasn't physically sick, but the passengers always were, so I comforted them during the flight and cleaned the plane afterwards," she said.
Her salary was about 20 yuan ($3.30) a month, and a ticket cost more than 100 yuan. "A letter of introduction was required to buy a ticket, so traveling by plane was regarded as a sign of status," she said.
It wasn't until the 1980s that Wuper and her peers received their formal uniforms - sky-blue with tailored skirts for summer, and dark-green for winter - specially made in Beijing. In 1985, a new design, a tailored suit in orange, added a special charm.
The same decade saw the introduction of jets, which changed the way Wuper and her colleagues worked. They were often mistaken for expats when they began working on flights to other provinces because few people from other parts of China had met Uygers before.
"The number of passengers rose, and so we wrote and practiced our broadcasts in Uygur and English," She said, "The Uygur passengers were always pleased when you greeted them in Uygur."
In 1991, the Xinjiang branch of China Southern Airlines, which took over Xinjiang Airlines, operated the region's first Boeing aircraft, and civil aviation began to develop rapidly in China's northwest.
Five years later, the company introduced a Xinjiang-themed uniform featuring Uygur patterns, and scarves made from Atlas silk, a traditional material. "We could be recognized immediately, no matter what airport we arrived at," Wuper recalled. The company now employs more than 1,000 cabin crew from 14 ethnic groups.
When she was 51, Wuper, the company's most-senior steward, left her post and began an office job with China Southern. She has just one regret: "I still miss my last uniform, which was made by French designers. It was so chic."