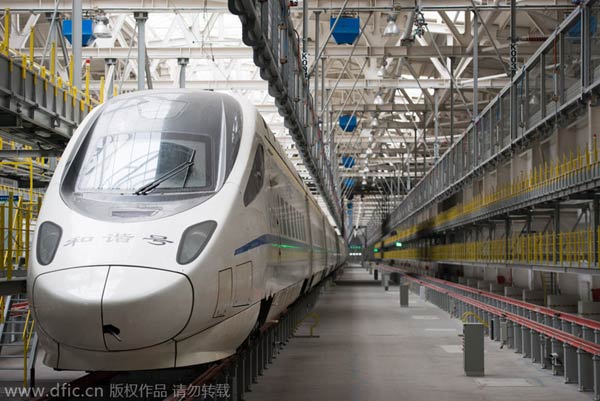 A CRH (China Railway High-Speed) train is seen at a maintenance station for an overall system examination in Urumqi city, northwest Chinas Xinjiang Uygur autonomous region, June 3, 2014. [Photo/IC] 
China is learning a costly lesson for the casual use of the English by many of its companies.
Beyond confusing public directories and hilarious — or sickening — translations of restaurant menus, the lack of accuracy in business documents has become the latest stumbling block to the sales of China's high-speed trains — something that Chinese are most proud of and are eager to sell around the world.
The Chinese-language press reported yesterday that some of the English terms for China's high-speed trains for export are not standardized, a result that may have arisen from the competition between two high-speed train producers in the country, which are about to merge.
"Professionals who understand railways are rarely experts in foreign languages. On the other hand, language masters rarely have railway knowledge," said Zhao Jian, a professor at Beijing Jiaotong University who specializes in China's railway system, adding that it is hard for railway professionals to have a thorough understanding in foreign languages.
China's top leaders have been promoting the country's high-speed railways to overseas markets, and Chinese enterprises have been selected to build several high-speed lines overseas, including between Belgrade, Serbia and Budapest, Hungary, and a new route linking Mombasa and Nairobi in Kenya.
However, companies have complained to the media, saying that they lost bids because of poor translations.
Zhang Minyu, vice-general manager of overseas market from CSR Zhuzhou Electric Locomotive Co., told China Economic Weekly that the company was once "one step away from winning a bid in north Europe in 2012" but finally lost the opportunity because of an error in the translation of the construction plan.
"The company's CEO said 'yes' but the plan was overturned by technology experts for mistranslation in our construction plan," Zhang told the magazine as saying.
Ma Huijuan, a professor specializing in interpretation at Beijing Foreign Studies University, also noticed the shortage of professional interpreters.
"English interpretation requires unique and professional training ... Someone who can speak and write in English doesn't necessarily know translation," Ma said, adding that it is even more difficult in business.
"English majors may know the language but they still face challenges when they meet terms and specific formats. Technology majors may be worse. They may look in a dictionary and do the translation word by word," Ma said, adding that China has begun to focus on nurturing more professional interpreters with diverse backgrounds, stimulated by hosting the Beijing Olympic Games.
In 2008, Beijing Foreign Studies University enrolled only four students in its masters degree in translation and interpretation, but that skyrocketed to nearly 60 this year.
The number of universities with qualifications to offer the program has increased to 150.
However, that does not fill the talent shortage.
"Some graduates are not in the interpretation business. Some choose to be editors and publishers, and some choose to work in banks," Ma said. "In addition, though many interpretation graduates have been trained, high-end interpreters specializing in specific fields are still in short supply."
Contact the writer at luowangshu@chinadaily.com.cn
Song Yi contributed to this story.