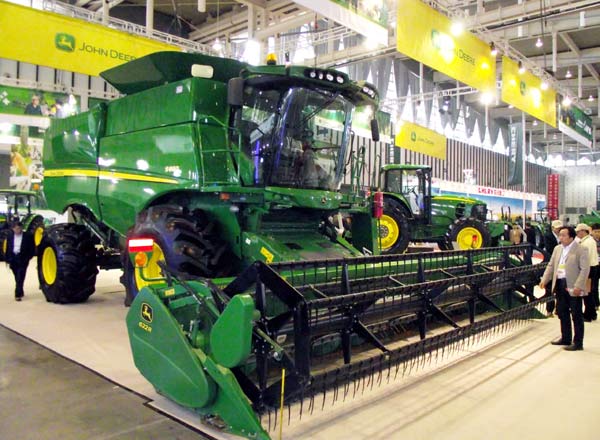 A giant harvester on display at the Nanjing International Expo Center, East China's Jiangsu province on April 9 2013. The 9.5-meter long, 4.2-meter wide and 4-meter high harvester can harvest and thresh 5 tons of rice or corn at a time. [Zhen Huai / Asianewsphoto]
BEIJING -- China's lawmakers on Saturday called on the government to update rural land-use policies to modernize and streamline the agriculture sector.
The State Council on Tuesday submitted a report on rural development during the bi-monthly session of the Standing Committee of the National People's Congress (NPC).
Government representatives -- including officials from the agriculture, environment and finance ministries -- were asked to attend Saturday's panel discussion with lawmakers to review the report and be questioned on their planned and implemented policies.
Development of the agriculture sector appears to have stagnated and farmers still earn much less than those employed in other sectors, said Lyu Zushan, a member of the NPC Standing Committee, during the panel inquiry.
Urbanization has resulted in the younger generation leaving rural areas en masse, as farming is neither profitable nor promising, he said.
To modernize the sector and improve its competitiveness, land use and farming procedures must be improved through reform measures, he said.
In China farm land is collectively owned by villages rather than individuals. A rural household can sign a 30 year contract to obtain the right to use a plot of land, as long as it is not used for any other purpose than farming.