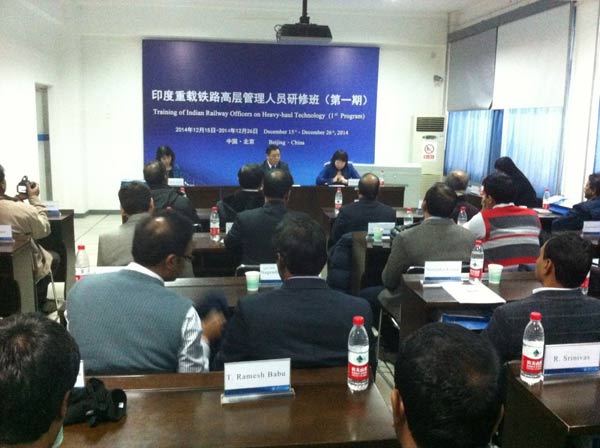 Officials from Indian railway authorities take a training course at Beijing Jiaotong University, Dec 26, 2014. [Photo by An Baijie/chinadaily.com.cn]

Twenty-two officials from Indian railway authorities got certificates from a university in Beijing on Friday after undergoing 12-day training courses.
R. R. Prasad, a senior officer of the Indian Ministry of Railways who is also head of the trainee delegation, said that he was impressed by the technology of communication and control systems of Chinese railways.
"I am impressed by China's noiseless high-speed railway," he told China Daily. "You can't even feel that the train is running at such a high speed."
The training program, which started on Dec 15 at Beijing Jiaotong University, emphasizes onsite training covering operational and maintenance facilities, monitoring systems and traffic controls.
Prasad said that even though China's high-speed railways are in their infancy, the rapid development in recent years has been recognized by the international community.
China is not only a manufacturer of high-speed trains, but also a benchmark-setter of international standards in high-speed railway technology, he added.
According to him, the Indian government is planning to establish its first railway university with the help of China.
"Many Chinese universities have excellent laboratories with advanced railway technology, which will be useful for the establishment of an Indian railway university," he said.
Liu Jun, vice president of Beijing Jiaotong University, said at the certificate-granting ceremony that the training program is expected to boost railway cooperation between the two countries.
During the training, the Indian railway officials traveled by the Beijing-Tianjin high-speed railway and also visited a railway bureau in North China's Shanxi province.
The training program is the first step in the cooperation envisaged by India and China in the Memorandum of Understanding and Implementation Plan on Cooperation in Railways, which was signed in September when Chinese President Xi Jinping visited India.
According to the Indian embassy's website, four more batches of Indian railway officials will be trained at Beijing Jiaotong University in heavy-haul technology in the next two years.
anbaijie@chinadaily.com.cn