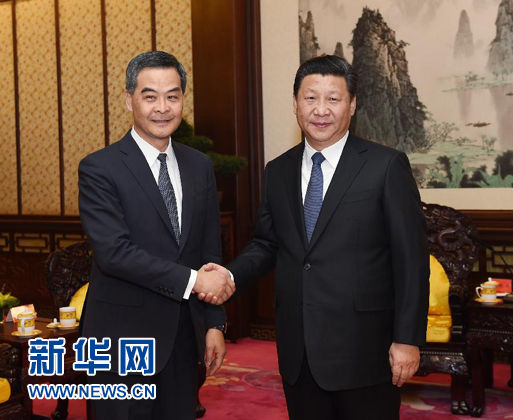 President Xi Jinping meets with Hong Kong Special Administrative Region (HKSAR) Chief Executive Leung Chun-ying (L) during a meeting in Beijing, Dec 26, 2014. [Photo/Xinhua]
BEIJING - Chinese President Xi Jinping on Friday urged that the development of the political system in Hong Kong be orderly and in accordance with law.
Xi made the remarks during a meeting here with Hong Kong Special Administrative Region (HKSAR) Chief Executive Leung Chun-ying.
Xi listened to Leung's report on current situation in Hong Kong and the work of the HKSAR administration, saying that the central government "fully recognizes" the work of the chief executive and his administration in advancing political reform, developing the economy, improving people's livelihoods as well as maintaining the rule of law and the overall stability in Hong Kong.
"The central government supports the HKSAR government in the development of Hong Kong's political system in accordance with the rules set in the HKSAR Basic Law and relevant decisions by the Standing Committee of the National People's Congress," Xi said.
The development of the regions's political system should be carried out in accordance with the real situation in Hong Kong and in a legal and orderly manner, Xi said.
He stressed that such development should be beneficial to residents, social prosperity and stability, and be conducive to safeguarding national sovereignty, security and development interests.
The president called on Hong Kong people to take the country's fundamental interests and the overall welfare of Hong Kong as their key consideration, protect social stability, promote economic development, recognize the rule of law and ensure that the region moves steadily along the path of "one country, two systems" and the Basic Law.
Leung was in Beijing to report on his work to the central government.
Top Chinese legislator Zhang Dejiang and Vice President Li Yuanchao, as well as some senior officials, were also present at the meeting.