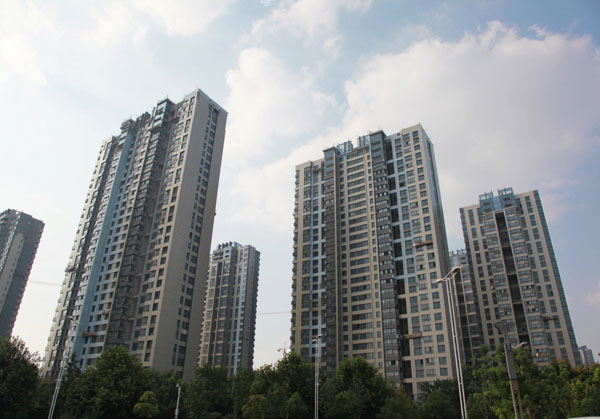 A housing project in Nanjing, capital of East China's Jiangsu province, Sept 21, 2014. [Photo/Asianewsphoto]
Post-1990 graduates are likely to become a generation without property ownership due to more emphasis on personal value, the Chinese Academy of Social Sciences published in a report on Wednesday.
Around 30 percent of the post-90s graduates surveyed live in a property of below 20 square meters one year after graduation. Half of the surveyed said they are unwilling to degrade their living conditions by incurring housing debts.
The report, Society Blue Paper: China Social Situation Analysis and Prediction, surveyed 4,110 students born after 1990 in 12 universities across the country. Of the interviewed, 2,730 of them are currently still students at school and 1,380 are graduates.
70 percent of graduates do not live at home
The survey reveals that in a year after graduation, more than 70 percent of graduates rent houses or live in dormitories provided by their employers. About 20 percent live at home of their parents or relatives and less than 5 percent live in the houses of their own.
The report shows most post-90s graduates have to procure a house on their own, said Tian Feng, deputy director of the research lab for teenagers and social problems affiliated to CASS.
Half of respondents reluctant to be confined by home loans
It is still a rigid demand for post-90s to have their own house. Only one third of respondents agree to lower their current living conditions to save money to purchase a house, and about 55 percent choose not to buy a house if the investment means a heavy debt burden.
More than half of the graduates believe that property investment is the best way to maintain the value of money for the time being. However, if the graduates had a sum of money for a down payment on a home, most said they would rather use the money on entrepreneurship or other business endeavors which they say provide a sense of achievement.
Tian said that on the one hand, the post-1990 generation recognizes traditional Chinese values which regard property as a necessity to build a family but on the other hand, they prefer a high-quality and free-style of life instead of living under the economic restrictions imposed by heavy house loans.