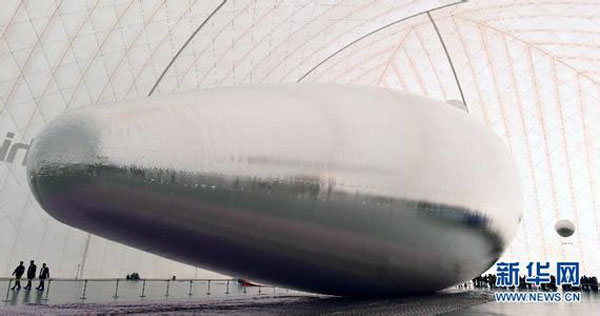 The flying platform 'Cloud' showed on Monday in Shenzhen. [Photo/Xinhua]
Kuang-Chi Apollo Base officially opened in Shenzhen on Monday, reported Nanfang Daily.
The launch pad that promises travel to near space by 2015, was researched and developed by Kuang-Chi Innovative Technology Ltd, a Chinese high-tech company providing innovative products and solutions.
Liu Ruopeng, the founder of Shenzhen Kuang-Chi Research Institute, disclosed the progress of two near-space projects, including one related to traveling to near space.
Cloud, the flying platform able to carry multiple services and cloud technologies, is planned to be released into space from Shenzhen to about 14 km above the ground for a series of tests for wireless transmission.
The platform could provide 8,000 square km area with Wi-Fi, equal to the size of Hong Kong and Shenzhen.
Another project Traveller, a spacecraft that can go back and forth from the ground to space, will be launched in New Zealand in the first half year of 2015.
The project will soon start testing the possibility of carrying animals to the space in 2015. The aim is to send humans to near space at a lower cost than currently charged.
Both projects will be tested at Apollo Base in Shenzhen.
The near-space travel project has been tapped as a fast-developing area in recent year by many high-tech companies.
Tencent Holdings Ltd, China's Internet giant, entered the space technology arena by investing in a US company World View announced last month, which plans to offer near-space travel at a comparatively low price of $75,000 in 2016.